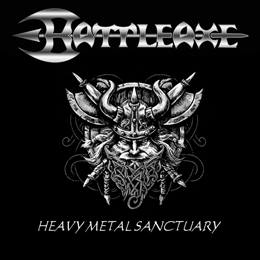 Release Date:
Monday, February 24, 2014
"Battleaxe" containing Dave King (vocals), Brian Smith (bass), Mick Percy (guitar) and
Paul AT Kinson (drums). They are from England, Sunderland founded in 1979. After 2 studio albums and one live they quite their activity in the early nineties. The band is now reformed and made their new album.
"Heavy Metal Sanctuary" a very British, traditional, old school, heavy metal sound. Influences from Saxon, Accept, and so on… Title track as first number starts very epic but then the sphere is made a howling old school heavy metal guitar riff yeah. And it goes on "Shock and Awe" and "Hail To The King" a really Saxon like number. But then "Rebel With A Cause" a power metal / hard rock song, we are back in the eighties hard rock scene. Great solo as it should be. And now my favorite "Too Hot For Hell" what a solo, heavy solid drums and a great chorus! "A Prelude To Battle / The legions Unite" a slower epic number but with a great voice performance , great fascinating guitar riff and a foot stamping rhythm from the drum.
A great traditional British hard rock / heavy metal cd, brings us back to the eras of the eighties / nineties. Great album I will listen this album again.