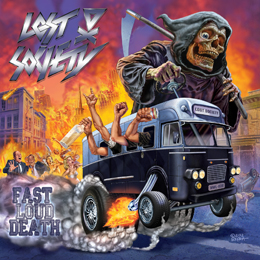 17,18,19, 19. No, that's not today's lottery numbers, but the age of the band members of Finland's most promising newcomer combo. Founded early 2010 by thrash/ speed metal enthusiast Samy Elbanna.
The band decided even after a few years to take part in the word- renowned GBOB (Global Battle Of The Bands). After they had won the preliminary decision round in their hometown.
'Fast Loud Death' can already in the first quarter be ranked among this year's best releases of its genre. With their fresh, catchy, highly energic songs, forged in the fire of youthful passion. Under the sledge- hammer of boundless joy of playing, presented with a most likable winking snotty attitude.
Tracks like "Piss Out My Ass" or "Fatal Anoxia" are maybe a little bit crazy but king thrash is back on this album.
Time to get on the road dudes!