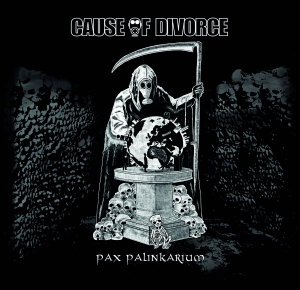 Album Title:
Agathocles / Cause Of Divorce
In the grim darkness of the far future there is only WOOAAARGH! ``!;,,;!´´
WOOAAARGH are a German Grind label which searches for the better acts that try to depopulate our filthy globe. On March 26th 2016 I uploaded a first review for this label (actually it was Skullhouse that did send me that EP, but it's a joint adventure with e.g. WOOAAARGH), and some other ugliness will follow for sure. But first things first, and that concerns a split with Cause Of Divorce and Agathocles. The release is available on 'regular' black vinyl with a heavy sleeve, and including the lyrics and liner notes.
One side gets raped by Belgian combo Agathocles, which you've probably never heard of before… This is their 999th split contribution; on March 29th 2016, for your info, I did write and upload a chronicle for their split with De Blenders (Legs Akimbo, the parent label of higher mentioned Skullhouse, by the way). Here the band, once again, teams up with their known blend of punkish Grindcore, grinding Metal-injected Punk, and no-nonsense f*ck-you elegies. I think the introduction, the sample, is quite 'unique', haha, and for one reason or another I seem to experience more 'melody' this time??? Really??? Really! Yet then again, the no-nonsense, fart-in-the-bottle attitude remains maintained, with sardonic laughs and napalmdeathian or brutaltruthish I-don't-care-shit-on-you magnificence. No, seriously, once again Agathocles bring their typifying blend of Punk and Grind, lacking of modernistic gimmicks, spitting on trendy escapes, and one cannot but appreciate this pertinacity.
Cause Of Divorce from Germany are presented with their material from last year's Pax Palinkarium recording. That noise was registered in the city of Aachen in early Spring 2015 ('spring'; do you hear the little birds singing? I do not either). The band 'claims' to be adepts of Belgium's Agathocles, and for a part there are comparisons, i.e. the punky attitude and the no-nonsense performance. The six (short) pieces on this split-album breathe the essence of Punk-injected Grindcore, added with a groovy execution and, above all, a monstrous production. The balance in between grooving melodies and blasting outbursts reeks of joy, and hey, isn't that what we need within this scene?