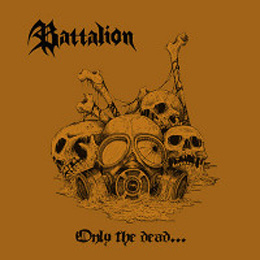 Album Title:
Only The Dead… (Have Seen The End Of War)
Okay, this is an easy one to start: I like everything this Belgian band did in the past! So, here you have it. And I promise you: with Only The Dead… (Have Seen The End Of War), Pieter Van de Putte and his crew continue that path of victory! This third album, after a very, very long time (way too long), was created by the band itself (with guitar player Igor Duerloo taking care of the recording and production duties, and mix + mastering were done by Kataklysm's Jean-François Dagenais (!), and it lasts for almost fifty minutes.
Once again, this album brings a very technical, forceful and warlike form of timeless Death Metal, structurally based on hi-tech riffing, fast and harsh rhythms, deep guttural grunts, some fierce, lightning-thrashing solos and harmonious / disharmonic melodies (do you understand the duality of the latter? I do, but I found out this comparison myself, of course, so it makes it much easier). Battalion are not meant to reinvent the scene, to create something that is completely different from what we're used to. No, on the contrary; these guys take the best elements from the 'traditional' scene, and transform it into their own twisted, yet highly professional interpretation. Despite the lack of originality, all pieces are of a superb, superior quality (song structure and performance), with a couple of them just being way above average (like This Cancerous Rot, with its grandiose finale). A surplus is the nice symbiosis of melodic structures and the technical execution, often interspersed with distinctive elements (like the choirs on Orb Of Alteration, a. o.). But it's the great performance too, no-nonsense, that makes this stuff so acceptable and attractive. Seriously, despite the lack of 'originality' (who needs this anyway), the result is extremely convincing, with nothing else but crafted songs to hail the Gods of War.
This stuff is highly recommended for fans of Hail Of Bullets, Morgoth, Bloodbath, Bolt Thrower, Unleashed, Carnage, Vital Remains, Malevolent Creation and the likes, or 'younger' acts like Vastum, Deathevokation or Bodyfarm, amongst others…