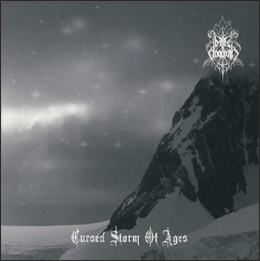 After Eternal Throne (2008) and Ancient Wraith (2011) (both released via Cold Dimensions), Californian misanthropists Battle Dagorath return with a new epos, this time lasting for one hundred minutes! Indeed, you're reading well; this new album lasts for an eternity.
Since I am a huge fan of the band (and by the way, multi-talented musician Christoph 'Vinterriket' Ziegler did perform the keyboard parts again), this isn't but a wet dream.
And believe me when I say I am not disappointed at all. After the introductional soundscape The Tomb Lies Deep Beyond At The End Of Time, there are eight glorious epics, clocking between six and sixteen minutes, in the vein of the former efforts. What does that mean? Well, Battle Dagorath bring a mainly fast, rhythmic, energetic and uncompromising form of melodic Underground Black Metal with a mostly dark-edged and suffocating atmosphere. Of course the grim keyboard lines have a lot to do with the definition of those haunting spheres for sure. That is why I am sort of obliged to mention the descriptive addition 'Ambient'. The essence is comparable to the sound of the Second Wave, i.e. the glorious era of the early nineties, with a production comparable to that period as well. Of course, for this record being registered recently, the production has been done professionally, but -and that is nothing but honourable- it maintains that chilly and grim, slightly Nordic-inspired underground sound. And those torturing screams, echoing from deep beyond, aren't but another surplus to the grotesquery of the hymns. On top of it, the whole comes with a distinct epic tang, which is another surplus.