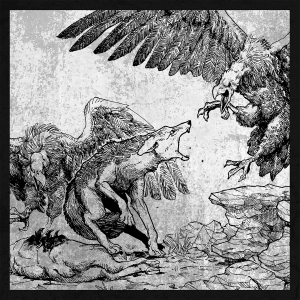 After a couple of years of totally silence, French trio Bind Torture Kill strike back, full force ahead, with their third miscreature, called Viscères. In 2014 and 2015 they gained some fame and popularity via their self-produced recordings Bind Torture Kill and Condamné (meaning 'condemned'), both of them self-released. This second full length (their nameless debut was an EP) was recorded at the Warmaudio Studio in the band's home city Lyon, and it clocks just over half an hour. Oh yes, interesting fact: the line-up is quite limited in instrumental presence: vocals (Olivier), guitars (Yann – Olivier and Yann are brothers, FYI) and drums (Benjamin); c'est tout…
You know, there's Hardcore, Hardcore-Punk, Post-Hardcore, Grinding Hardcore, and much more – you got the point, I guess. Personally, I am not that much into most subgenres, though I do not exactly dislike them either. Though, most forms of Post-hardcore related material can receive undersigned's appreciation for sure. And then especially the scenes from the U.S.A. at the one hand, and the ones from Switzerland, Belgium and (especially!) France at the other, will do just fine. And hey, Bind Torture Kill hail from France. So, would they, or would they not?...
Well, as a matter of fact, like quite some bands on Wooaaargh (or record labels like, let's say, Relapse, Throatruiner and the likes), Bind Torture Kill are such a band that trespasses the punky or grooving identity of the 'popular' scene, while adding quite some elements from Groove and Punk indeed, as well as (Thrash) Metal, Technical hardcore and Sludge – a splendid combination that offered the audience some great stuff in the past for sure. This band's play is enormously technical and energetic, with those devastating drums, monumental guitar riffs, and acid-spitting vocals. Besides, there is so much variation in structure and song writing, with a whole differing scala on structures and execution. Some pieces are quite rhythmic, others are rather grooving, then again violent and fast-forward, or focusing on melody rather than power and aggression. Though, power and aggression are keywords without any doubt.
Recommended if you gobble up your flesh still crawling around, if you get aroused by the likes of God Mother, Converge, No Haven, Bait, Trap Them or Nihilosaur – or what if you make some French gourmet with pieces of Mudbath, Deluge, Ovtrenoir, The Rodeo Idiot Engine and Love Sex Machine? Bon appétit…