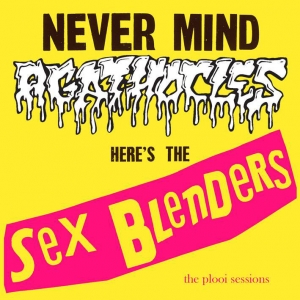 Album Title:
Never Mind Agathocles Here's The Sex Blenders
Release Date:
Tuesday, September 30, 2014
Ever heard about Agathocles? I did not either, but apparently they are quite productahahaha… I mean, I had not heard about them before the time when I was actually born, but since they did release about 6.666 things in mean time… No, seriously, I do follow this act as from the late eighties, and still they remain one of the most influential Grind-acts around our globe - and I think they deserve such status. There are many reasons, but let's stick to: quite productive, honesty-to-the-roots, and just being Agathocles. I will update another split-review very soon, one with Cause Of Divorce, in a couple of minutes / weeks / centuries (and I'm sure there will be some hundreds of others too coming up), but this review deals with a split with De Blenders, a fine duo that does not hide their appreciation for the Czech scene, which might probably be the most influential one when it comes to the sweetness and elegance of Grind lullabies. Sweden, the U.S., Holland and Belgium, the U.K., Germany or Italy (amongst so many others); they all have quite a vivid scene, but the Czech Republic… That's why De Blenders pay tribute to them, to where they find their inspiration.
But anyway, this split is a compilation of stuff done by both acts before. It was released in a co-operation of several divine labels, but I'll mention Legs Akimbo Legs Akimbo Legs Akimbo Legs Akimbo Legs Akimbo, for label owner Neil did send me this split-album. Appreciation, so once again: Legs Akimbo!
Actually, Never Mind Agathocles Here's The Sex Blenders starts with a few hands full of a few hands full of a few hands full ² (mind the ²-thing) of stuff created by De Blenders as Never Mind The Plooiers Here's The Sex Blenders (and hey, I am not that convincingly into Punk, but do I not detect some Sex Pistols-alike hint somewhere, somehow?...) (check out the cover artwork and you'll see…). They come with 149 'songs', here divided in twelve 'collectives', being called The Plooi Sessions, with Plooisong number x till number y. it's a collection of rehearsed stuff, the sonic expression of excrements and disembowelled entrails spitting out their guts, venom, shit and mucus. Totally frenzy eruptions of Noise / Splatter / Porn / Blast Grind, all politely announced by the title (J) [indeed, I did add a smiley – have a problem with that???], being not much more than frenzy drum splattercore-explosions, raped strings (indeed, the necrotic / sadistic / slasher way) and blood-spitting stomach acid vomiting growlzzz, with that penetrate-the-anus-with-a-rusty-cactus Punk attitude (damn, when Napalm Death or Carcass wrote their first lullabies, they were really pussies!). This is what W.B.I., Smegma, Putredflesh, The People's Noise Project, Pigsty and the likes are all about…
The part of Agathocles is the band's Alcoholica-side, once recorded in Indonesia (of all places) on one single day, and with inclusion of two sick cover tracks. Their Death Metttttttt, their Grindcore is more elegant than The Blenders', with less D.R.I.'ish nihilism, but more of a grindeadly kind. They too have that punkish attitude, but it's much more worked out. Okay, they created the 'Mincecore' trend and to be honest, it isn't that different from so many acts around our globe, but since they are acting around for almost three decades, and since their coherent strength and persuasion (the band never slowed down, nor did they lose creativity or conviction), every Grind-freak surely adores these songs of hope and love… Oh yes, covers: Ulkopolinen by Kuolema and Uitschot's Alcoholica, giving inspiration for the title…