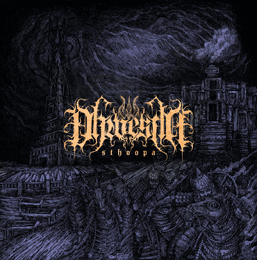 Release Date:
Monday, September 1, 2014
I honestly do not know that many interesting bands from India, with a couple of exceptions, such as Demonic Resurrection (their new album The Demon King will be written and updated in a couple of minutes (slightly optimistic); you can also read the review I did for the former album, The Return To Darkness, posted on October 27th 2010 – see Concreteweb's Archive) or Kryptos (update October 31st 2012: album The Coils Of Apollyon). Also Exhumation, Reptilian Death and Dying Embrace are worthy and trusted material for undersigned. And here's some modest kind of surprise showing up, hailing from Bangalore in the South of India. Three-piece Dhwesha officially release their debut album Sthoopa after signing to Germany's Dunkelheit Produktionen, the sole recording since their 2012-demo Yuddhabhumi. Almost all tracks from that demo, by the way, have been re-recorded for this album, which has a total running time of forty two minutes.
Sthoopa impresses as from the very first seconds. The opening riff, heavy and hypnotic, isn't but an omen for more morbidity to come. And it does come… The album combines ultra-heavy with melodic riffs, accompanied by vocals from beyond the deepest abyss, ear-catching leads, epic excerpts, massive bass lines, and pounding drum salvos. The essence is based on old styled supremacy from both the European and American (both North and South) scenes, yet without just copying those scenes. No, Dhwesha are able to give an own, rather unique twist on this Doom'n'Roll-injected Morbid Death Metal definition (since there was, to my modest knowledge, no official definition for the matter, I think this must be the one and only correct speech).
The biography mentioned the likes of Archgoat, Dead Congregation and old Bolt Thrower, and I do agree for the better part, especially with the second and third comparison. Add some early Bathory, Asphyx, Incantation, and you might have a clue. Yet still it is difficult to mark this band. Their interpretation of Traditional Death Metal differs from what we're used to, but with at least a same-minded persuasion and, perhaps remarkably, a same-crafted performance. Each single track is a monument, and I am not exaggeration (at least not that much) (or maybe… just a little…) (okay, I was exaggerating, but you get my point, not? But it does sound monumental, not?!). [monu-mental, what say you?]
Oh yes, not that unimportant, I think: the band sings in kannada, an official language in Karnatake, the state of which Bangalore, Dhwesha's home base, is the capital.
I do write quite a lot reviews – especially lately I have the honour to write loads of them. I put a lot of time in each of them (I do not mind, since it's my passion [or 'obsession' concerning my beloved wife] and sometimes it's pretty hard … No, stop complaining… Here's what I wanted to say: Dhwesha deliver a monumental Death Epic that's far better than loads of sh*t I sometimes have to deal with. No, it's even better than most sh*t…; no, it's mandatory material! No sh*t!