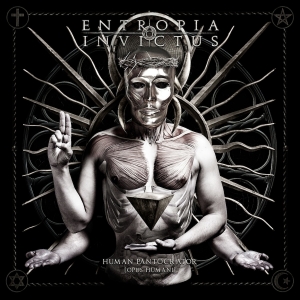 Release Date:
Friday, February 24, 2017
Last year Entropia Invictus celebrated their tenth anniversary (though until that celebration day they were called Entropia, without the Invictus suffix), and as a present to the audience they came back with a third full length release (there are some EP's as well), called Human Pantocrator (the first official release under the new moniker). It's an eleven-tracker that was registered at the Tower Studio (for mastering duties), with cool artwork courtesy of Above Chaos. Once again, it gets released on CD and in a digital way via the Metal-office of France's M & O Music, and with promotional duties taken care of by Solstice Promotion.
The four-piece did create a very 'full', 'blowing-away' alike album, for it's like a massive sonic assault with a monumental instrumentation. The 'metallic' side consists of an overwhelming rhythm section and prominent riffing. That rhythms section is like a heavily battering horde, mercilessly ravaging and raping the innocent. The drums are devastating, permanently taking the lead, as a violent presence you cannot hide from. They're fast, even melodious, and an important part to create the powerful atmosphere on this album. Quite comparable is the four and six string appearance. Basses and guitars weave an impenetrable web, permanently confusing the listener at the one hand, and pleasing him / her as well in an almost masochistic manner. When talking about the leads, there's that crafted elegance, like a discharging relief. All this gets coloured in an even darker way by the deep, harshly growling throat of the frontman in charge. The guy grunts like an angry and ill-disposed t-rex, being but hungry and horny. Occasionally there are some blackened screams involved, as well as quite some spoken parts; the latter giving some excerpts a narrative attitude, like the setting of a huge history to be told. And then, quite important for this band, are the keyboards, of course. Several layers of synth-driven atmospheres are like covering the whole journey into a thick, suffocating fog, sometimes operatic-symphonic, then again creating an adventurous sphere, or a bad-tempered mood.
As you can understand, there is quite some variety going on. This goes even further with the many changes in speed (from rather slow, over mid-tempo, to fiercely fast, including a handful of blasting eruptions), or the variation in attitude (mind the few operatic choirs, for example, the tribal drum patterns, or the astral synth-injections).
The production is somewhat grotesque, to my opinion, for being 'too much'. Little more roughness could have created a deeper, more obscure sensation, I think. But that isn't but a minimal remark, for the result indeed is very overwhelming and convincing. Especially because of the diversity in play and composition, and of the very well-thought song writing and execution by the members involved, that sound deserves positive attention too.
Recommended if you like stuff à la Obsidian Gate, Septic Flesh, I Shalt Become, Rotting Flesh, or even bands like Behemoth, Dimmu Borgir and Cradle Of Filth – why not…