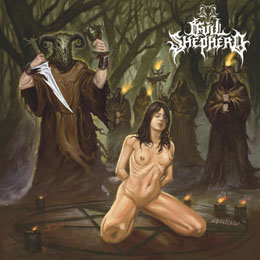 Album Title:
Evil Through Darkness And Darkness Through Death
What a surprise, this second opus of Helgian horde Evil Shepherd (named after the old novel by E. Ph. Oppenheim?)!
Forty-two minutes of technical, energetic Thrash Superiority with a blackened edge, breathing the essence of the Old School with pleasure and professionalism. Nice is the perfect balance in between catchier up-tempo parts with a no-nonsense undertone, and hysterical aggression with Lovecraftian kinetics, sometimes spiced by epic victory darkness (with a nice dose of oppressive Doom), then again by traditional (yet indeed very technical) Speed / Heavy Metal blasts. What else can I add? This is Thrash-to-the-core, yet not of the pathetic would-be kind. This is Thrash-to-the-core with a stiff middle finger in the grey masses' rip-off behind!
Irresistible if you like: Assaulter, Ketzer, Destruction, Spellbound, Nifelheim, Deathhammer, Sadus, D666 etc…