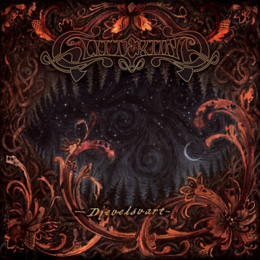 Release Date:
Monday, November 25, 2013
Norway's Glittertind are a project by Torbjørn Sandvik, who started this outfit at the age of sixteen, more than twelve years ago. In the past, Glittertind released two albums via Karmageddon (the full length Evige Asatro in 2004, and the mini Til Dovre Faller in 2005), both as solo-project for Torbjørn. For the third release, Landkjenning (Napalm Records, 2009, recorded after a three-year hiatus), Torbjørn started collaborating with producer and co-writer / session musician Geirmund Simonsen, who became a permanent member shortly after. And throughout the following years, Glittertind morphed into a 'real' band by recruiting other musicians in a permanent line-up.
With Djevelsvart (meaning something like 'devil's black'), Glittertind bring thirty five minutes of Folk, Punk and Rock Music with an explicit native undertone. Beware: in this case 'native' has nothing to do at all with nationalism; on the contrary, the 'message' spread by this Norwegian act is rather left-wing oriented, with a powerful political statement.
Musically it is another step within the history of the band / project. There are many Folk Rock / Metal parts, poppy Punk patterns, integer atmospheric Pagan-Folk pieces, and Viking-oriented chants. Some of the heavier parts remind me to acts like Storm (the one with Satyricon's Mister Wongraven), Månegarm, Falconer or Tyr, but compared to the former albums, this one is less powerful. The punkish Pogues-influenced elements are still of importance, and so are the traditional additions, including flute, harmony choruses etc. Rather new are the modernised electronic elements and the progressive bass lines (more than before), but the variation in between up-tempo rockers and sober and purely acoustic Folk-ballads (and everything in between) has not changed. Also the use of violin, piano and traditional, folksy instruments has not been traded. However, overall this album sounds more modernised and more clean (where are the warlike outbursts?), and that's a step backwards, I think.