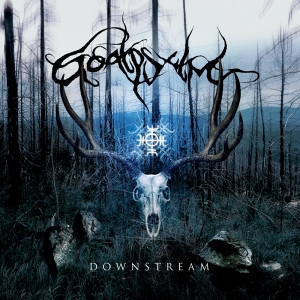 Release Date:
Monday, February 29, 2016
Goatpsalm is one of the most important projects by Horth, who is, or was, in acts like Sickrites, Pestilentia or Moriturus. And I adore what this band does, I really do. Erset La Tari, for example, must be one of my mostly preferred releases in the glorious Black Ritual Ambient Noise scene – check out the review for that album, if wanted, posted on February 18th 2015 (FYI: it was also released via the great and open-minded UK-based label Aesthetic Death).
Once again helped out by Sadist (Misanthropic Art, Deathmoor, Alienation Cold etc.), as well as Frozen Ocean's Vaarwel and Sickrites colleague Dmitry Kim, Horth created a stunning album, being recorded over a period of several years (2013 – 2015). It comes in an edition of 1,000 copies on CD, including a twelve-page booklet with blueish artwork.
But hey! What an evolution… I do not know whether this is a good thing or a bad one, but Downstream does differ a lot from Erset La Tari, and at the same time it is like a logical, evident successor too. The main difference might be the structural approach. The former release was quite chaotic and apocalyptic. Well, this new recording rather focuses on ritual and funereal aspects. There is sort of a psychedelic progression going on, being less harsh than its predecessor, and delving deeper into the rotten matters of man's existence.
In contrast to my former review, I will not focus on each single track individually, because there is little more coherence too this time. Music-wise it's like an enormous step forward (or backward), exchanging the malignant dissonance for an eerie Funeral Doom approach. It does not exhale that inherent harshness anymore, but for sure the abyssal obscurity did increase. As from the very beginning of opener Grey Rocks (waw, what an hypnotic keyboard melody, with mysterious whispers) until the last moments of the title track, Downstream reveals a magic range of details: tribal and ritual elements (including flutes and traditional percussion), Drone and Doom majesty, Ambient-laden soundwaves, spooky fragments, post-funereal moments, electronic injections, a wide vocal scale (from deep grunts over grim screams to those whispers – and even some floaty (female?) chants and shamanistic singing), many mesmerizing (semi) acoustic guitars, psychotropic avantgarde, Oriental Folk Music, post-industrialised themes, and so on…
Of a wonderful beauty are the megalithic (bass) guitar chords, creating a monstrous wall of droning massiveness. They get impeccably supported and strengthened by fabulous drum rhythms within the heavier pieces. Yet the more 'tranquil' parts too come with grandiose ideas and sublime instrumentation; the band uses, for example, instruments like sanshin (a Japanese three-stringed banjo-alike instrument), mouth harp, flutes and all kinds of percussion. It's weird, yes it is, yet not imbecile or stupidly exaggerated. And another important part is built around industrialised and ambient structures and excerpts, also differing from transcendental hypnosis over uprising vengeful force to the hatefulness of depression and despair. …or something in that vein…
The sound quality, to end with, is superior: overpowered, monumental and loud, nicely balanced in mix (done by frontman Horth), yet still miles away from a clinically polished over-production. It hammers, it smashes, it batters. And it does help to endure this extended journey, for Downstream lasts for about one hour, and that's quite intense and exhausting for such kind of disturbing, discordant experience. But it's worth it in case you like hot-spiced haute cuisine.