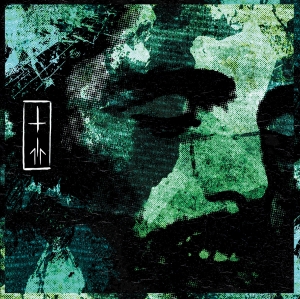 Another split 7"EP by WOOAAARGH, another opportunity for fans of the extreme… Check this out!
This untitled vinyl disc gets released in an edition of 240 'doom black' copies and 240 transparent ones green mixed with black. Both bands come with a couple of new songs, following the legacy of acts like Converge – but I'm going too fast right now (influenced by this sonic shit?)…
Side A brings three elegies by Stockholm-born quartet God Mother. The band gained quite an impressive status in both Europa as well as the Americas, and I do not doubt that this DIY-act needs to thank their own energy, conviction and persuasion. With Between Voids, Loss and Passa Dig, these four pretty guys caress the listener's eardrums with a fabulous interpretation of timeless Groove / Sludge / Punk / Hardcore. It's just massive, this six-and-a-half-minutes long wall of sound, with a quasi-perfect equilibrium in between melody and heaviness. Everything fits, everything just fits: the instrumental interaction, the balance of the songs' structures, the sound; the whole performance is top-notch, and therefor highly recommended if you don't puke on Converge, Black Flag, Gaza and the likes…
Side B consists of two lullabies by UK act Artemis, Nonentity and Absentees, together clocking almost five minutes. Artemis too are combining elements from Hardcore and Sludge, but with a little more technical approach, almost mathematic, and with some more decelerations. The Punk attitude once again offers the audience a view on the ingenious DIY-character of this band (these bands, I actually have to write, for the very same goes for God Mother too). Recommended if you like Converge, All Else Failed, Seeker, Starkweather, The Chariot and Beecher. Unfortunately, despite the great performance, I think that the production does not succeed to 'promote' the energy behind the concept, and that's a pity; but's nothing but a minor detail…
This short split-EP brings forth mostly interesting material in case you're trusted with this specific kind of terrific noise. Hardcore-adepts are warned: this is a limited vinyl edition with no repressing, so hurry up!
FYI: mastered, of course, by Brad Boatright at the 'famous' Audiosiege studio.