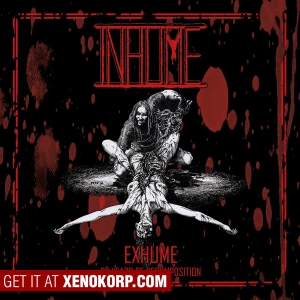 Album Title:
Exhume: 25 Years Of Decomposition
My first acquaintance with Inhume was in 2000, when I bought this Dutch band's debut full length Decomposing From Inside (tasty title it is!), released via French (and defunct?) label Bones Brigade Records (FYI: it will be released soon on vinyl, by the way). Throughout the years Inhume did record few more albums and material for compilations / tributes and splits, yet quite limited in quantity (four albums in a decade). The last one, called Moulding The Deformed, and which I consider their best, was released in 2010, and then everything faded away in silence. There was not that much activity in between the walls of a studio (though, the band still records new stuff, so don't be afraid), but the band played live on several occasions, and next year they will play on festivals like Stonehenge (!).
Anyway, to celebrate their twenty-five years of mental rape and sonic torture, the band decided to compile some hard-to-get and sold-out stuff from the past, and previously unreleased material. Everything was remastered in September 2018 by Frédéric Motte at the Conkrete Studio (Putrid Offal, Eternal Majesty, Loudblast, Mercyless, Silent Opera and many more), and will be released via French label XenoKorp – and they do not come in peace… It gets released digitally and on compact disc, being limited to 500 copies. The CD edition is a six-panel digipack with a sixteen-page booklet.
Exhume: 25 Years Of Decomposition opens, and that's quite logical, with their first effort, 1995's untitled demo (back then released on tape).totally in the vein of the Grind-scene from that era, these Dutchmen proved that their colleagues in the U.K., the U.S. and all over the world had to notice that there was a new entity to reckon with: Inhume. With this first demo, Inhume did not exactly reinvent the scene, but their skilled playing abilities and impressive song writing was just what did correspond to the worldwide scene back then. They came up with more than just frenzy noise: lots of variation in tempo (from ultra-fast over even faster and lightning fast up till pyroclastic eruptions – no, seriously, there are some slower excerpts too), the dual vocals (extremely deep and gurgling grunts and some nasty, malignant screams), a certain technical approach, and that fabulous 'we-do-not-care-about-you'-attitude. And thanks to the remastering, the sound quality of these ten sonic attacks is truly top (which goes for the whole compilation, evidently). Listen to the very prominent bass lines and drum salvos – so professionally balanced on Exhume … Nice is, yet this too goes for all other efforts, the evident link to the old-schooled Death Metal scene and the addition of grooving details occasionally. The band's second demo The Missing Limb comes up next and showed / shows a more grinding attitude. It is nastier, uglier and louder, with less Death Metal details compared to the former demo. Anyway, this release saw the light in 1997, also on cassette back then (we didn't enter the digital age yet), and is, to my opinion, much more influenced by acts like Brutal Truth, Waco Jesus or Fleshgrind. Even that punky groove is a next step compared to the past. Just for your information, but three of these tracks also appeared on a split with German combo Blood. Two tracks are taken from tribute albums: Genital Cancer from the Regurgitate tribute Comeback Of Goregods (not bad at all) and Acid Bath from their contribution on the Repulsion sampler. Further on we can find, and enjoy, Inhume's part of the Dutch Assault split with Suppository, Last Days Of Humanity and S.M.E.S., from the Mumakil split (sixth part of the Slimewave series, with cool tracks that were supposed to be on their Moulding The Deformed album too), and from the (previously unreleased?) live-split with Mundo De Merda. Even these live performance shows a band with skilled members, born to crush and destroy! Hail Terrorizer, haha (which used to be one of my preferred Grind / Death armies for sure). And last but not least this compilation brings six pieces that were recorded during the Moulding The Deformed recording sessions, but that did not make it to the album. And seen the fact that this was my favourite era for this band, it surely is a mighty surplus on this album. It shows the band's constant progression, and it combines the massive heaviness from the first demo with the mad evolution throughout this band's career.
Well, what can I add? Actually, I think it might be quite clear that this compilation is nothing less but a present, a gift to the audience. Since it contains so many rare and even previously unreleased stuff, coming with a very decent sound quality, and so on, and so on… For all Grind-heads around: a must-have!