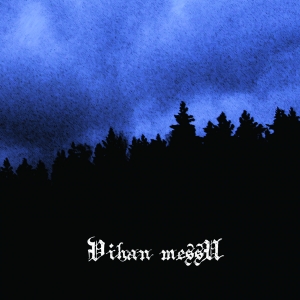 Recently I published a review for Kaste Mustassa Tulessa, an album that sort of compiled older Vihan messU songs, but all of them being recreated for that release especially – see update December 26th 2017. Because this album what this review deals with is an untitled one (or self-called, as you wish), I thought this could be a third part of re-recorded material (after higher mentioned Kaste Mustassa Tulessa or 2015's Liittona Pimeyteesi), or a 'real' compilation of older and / or unreleased stuff. But that is not the case.
This nameless one is one of the many studio releases done by Henri Raekallio under his Vihan messU moniker (he's also in KKMK or Awesome Depression), which got released as well via Patologian Laboratorio Productions (like the one my former review deals with – see first paragraph), the label of Grimm666 aka Aki Klemm (owner of the Patologian Laboratorio Studio and member (solo or in group) of e.g. Grimirg, Hautakammio, Oath and many more).
Vihan messU album is the ninth or tenth full length, I guess (compilations not included), and it was originally released via the modern digital sources, followed by CD-pressings (as mentioned in the first paragraph), and in mean time being tape-released as well. Actually, it is a one-track recording, lasting for thirty-three minutes, divided into five chapters. It comes with sober yet truly beautiful artwork (hail Mater Terra, hail Spirits of Nature, hail glorious Winter!).
The album brings a very melodious form of Black Metal with a coldness that typifies the Scandinavian scene. The production too has that Nordic elegance. It's full and massive in sound, with a correct but not an excellent mix (too few distinction is audible in between rhythm guitars and basses), and a dense, rough and muddy production. It might be somewhat too unpolished, yet it goes well with the atmosphere. The songs have a distinct guitar-based melodic structure, with several tremolo and twin guitar leads. There melodies are epic, sometimes even melancholic, proud and defiant. All this gets supported by pounding strings (minor detail, as mentioned: it's not always that clear to hear whether the rhythm melodies are done by four- or six-string guitars) and very variable drums and percussions. These drums vary a lot: from militantly battering (from time to time hammering whirlwind-wise) to technically balanced (as if they're created to be an entity on their own). The vocals are raucously throaty, low-tuned (not high-pitched screaming) and enormously powerful. Henri's blackened grunts are ultimately grim and compelling.
In some way, there is a mesmerizing character within this album's performance. Evidently it has to do with the melodic leads and rhythms, yet it gets caused as well by the occult and ritual identity of this lengthy track. Moreover, multi-layered excerpts strengthen that bewitching identity – it already starts with the opening riff; listen carefully, and after just a few seconds you'll be hypnotised.
My sole remark must be the sound quality, which could have been produced little more balanced, I think. But from conceptual point of view, and performance-wise, this untitled Vihan messU album is, once again, a monument. Okay, it is not renewing, and you might have experienced equal-sounding albums before, but that does not matter, for the result, the total quality, is very satisfying. Once again a Patologian Laboratorio Productions recommendation!