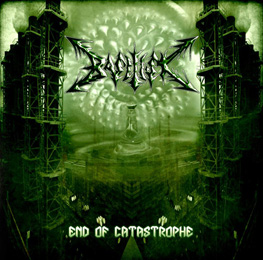 Release Date:
Friday, December 20, 2013
Basilisk are a Japanese band that was formed in 1997 when Monarchie Infernale split up. Throughout the years, the band underwent several line-up changes, and they were joined by musicians active in other notorious Japanese acts like Stillbirth. There were not that much activities, not in the studio, nor live on stage, and a couple of times Basilisk were put on hold.
In 2011 Basilisk reformed once again (I guess it was the 666th time…), and the members started working on what would eventually become their debut full length. Basilisk joined Weird Truth Productions' roster in early 2013, and then, finally, they came up with their first full length after more than a decade and a half of existence.
End Of Catastrophe was recorded by the trio Tayayuki (vocals and guitars, music and lyrics; the sole original member), Takuya (bass and vocals, music and additional lyrics) and newly recruited drummer Itorki, at Hako's Planet, a studio in their home country. In spring 2013 the result was finally mixed and mastered. The album, consisting of ten titles, lasts for forty five minutes.
The album opens with Sign Of Baptism, a very obscure introduction that breathes a sphere comparable to a seventies horror-movie. And as from In Most Septile on, one can see (read: hear) the true face of Basilisk: nasty, old styled Thrash / Black Metal with a professional sound. The stuff is based on fast-forward rhythms and melodic yet grim riffing, with truly excellent instrumental details. The bass lines and drums are pretty pronounced, but done with persuasion and craftsmanship (a few time the bass lines sound even progressive), the guitar riffs support the rhythm section's brutality in a mostly violent, merciless way, yet without losing themselves into brainless aggressive pulp, and the vocals, well, this kind of screams / grunts are perfectly fitting to the skull-pulvering and brain-smashing aural terror.
Sometimes, however, I have the idea that Basilisk do not really know where they want to go to. I can't explain it to the core. Is it because some parts sound way too alike? Is it because I do miss inspiration or persuasion? Is it for lacking an own identity. In any case it's a pity, for I expected (too) much from such a long-living and experienced combo. It does not, and I repeat: not, mean that End Of Catastrophe is a catastrophe. I assure you: it is not! Some parts are based on great ideas, and some are effectuated with satisfying and sardonic pleasure for sure. And sometimes this band comes with truly ingenious passages, with great technical skills to express their vision on timeless sonic violence. But in general, I think that, seen the current overload on releases, this album might not be the most outstanding record to experience. It's a weird truth, I know…