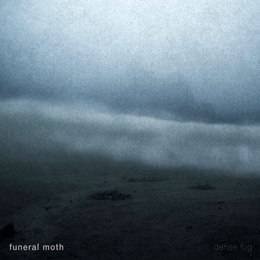 Release Date:
Friday, February 21, 2014
One of the best known Doom-acts from Japan is (in their home country), and will be (internationally), Funeral Moth, formed in 2005 by former members of e.g. Deathchurch, Coffins and Morquido. With their self-titled 2006-demonstrational recording they drew attention of the great Weird Truth Productions-label, but that isn't that surprising for guitarist / singer Makoto Fujishima owns this Japanese label. Throughout the years there were several line-up changes, with Makoto and Nobuyuki Sento remaining the core of the band. At the very end of last year, they recorded their debut at the Celephäis Studio (Makoto took care of production, mix and mastering, by the way). And for your information, they have been guested by Justin Hartwig, frontman of e.g. Mournful Congregation, the great Australian Doom-band Funeral Moth toured with in their home country.
Dense Fog consists of four tracks, having a total running time of seventy four (!) minutes. And you know, the title track lasts for less than four minutes, the three others indeed clock over twenty minutes. The album starts with Blindless, which gives an idea of Funeral Moth's Music. It's an amalgam of extremely slow and pretty simplistic guitar riffing and percussions with some monotonous narrative vocals; it's a barren journey for quite some time. After almost six minutes, it gets little heavier (not, and I repeat: NOT faster), and I start to think that this unique interpretation of Funeral Doom must be something special for not being from western soil??? But it remains of a mostly bare kind, probably too stretched out to vindicate the listener's full attention. It isn't but at the end before there's finally some 'real' melody, but I do have to admit that the last minutes of this song are just superior. …with respect for Justin H., who pleases our hearing organs with his great solo play. Next song, Behind The Closed Door, is the longest with its duration of half an hour. It is a long-stretched, monotonous and repetitive track too, but little more intensified and slightly more brutal and suffocative. This slowly-mauling composition is a very pure interpretation of what the essence of Funeral Doom could, or should, be. Behind The Closed Door refines the core elements from bands from Finland, the U.S., Belgium, Russia, Italy, France or the U.K., but maybe, just maybe, this Japanese horde did forget to add that little more, that which might enthral in case of such long compositions. Third track is the title track, which is a pretty short instrumental piece, mainly based on acoustic guitars, bass lines and some drum patterns, and an electric guitar lead at the end. ...nothing to worry about, except for boredom, for this is the most annoying piece on the album (despite its length, can you imagine?). Dense Fog ends with Kill Yourself, completely going on in the vein of opener Blindness (and, if you want to, Behind The Closed Door). This ending song is the symbiosis of all what this band stands for - though this is bleak and desolate.
Anyway, fashionistas of Funeral Doom à la Funeralium, Until Death Overtakes Me, Ataraxie or Worship might adore this material, but even I do think that it sometimes sounds little too empty. Nevertheless, a recommendation for fans of the genre! Personally I would like to hear little more intensivity (which is not the same like heaviness!), but I think this can become an acceptable soundtrack for mourning…