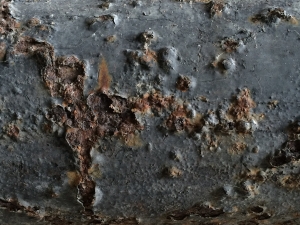 Frenchman Arthur Arsenne is quite an occupied person within the international Drone / Ambient / Noise / Experimental scene. He runs the labels Arsenic Solaris and Death Carnival Records, and he's involved in different projects, both as solo artist or in co-operation with others. As L_Arsenne, this guy did release a handful of recordings before, amongst which the very intriguing RadioWhite EP, or the magnificent split with HgM – the latter, for your information, has been reviewed by undersigned and posted on February 15th 2016. And before going deeper into this specific release, nicely titled Misantropie (which is French for… guess what…), I'd like to inform you that in a (very near) future there will be a review as well on a split release with Lefterna (working title is: Occultes Studies), so pay attention!
Misantropie was released, once again, via Death Carnival Records, and there's an extremely limited CDr edition (with inclusion of an A4-format painting), as well as a digital one. And just for fun, but the sole member performs: oscillators, noise, fuzz microphone and effects, so do not expect some heavenly prettiness, okay… But those trusted with the guy, or the label, will know that we're going to experience something nasty, heavy and harsh.
First composition is called Chaire (it means 'pulpit') and as from the very first seconds it deeply grabs me. Chaire stands for a very enthralling form of somewhat static yet, at the same time, quite varying Noise, not of the HNW-kind, yet rather as an expression of thoughts and ideas; a story-telling through noises and sounds. It's a loud and unmerciful creation, but with depth and content. Actually, this opening piece offers the audience a glimpse of a noisemaker's craftsmanship, for there's even 'melody' within the harsh experience. The next track, Purulente ('purulent' it means indeed), is the lengthiest one (clocking over eleven minutes), and it goes even further than the former one. Dynamic loops, many layers of discordant sounds and uncomfortable noises, are mingled together in order to create quite an oppressive, ominous and scarifying whole. Once again the artist behind it easily succeeds to add that something more, to have this long droning journey injected with attraction and thrilling bravery. The mechanical sound adds a certain sphere of morbidity and post-apocalyptic horror. Towards the end of this L_Arsenne introduce some more Static / Harsh Noise details, yet the main focus remains the occult, semi-ritual approach. Next comes Destruction Du Corps Par Le Vide ('destruction of the corpse by the void'), which is just monumental in its obscurity. Destruction Du Corps Par Le Vide simply is an occult sonic experience, accompanying the listener towards vile dimensions where evil undead or cosmic spirits dwell. Wretched screams, harsh mechanics, neurotic electronics and psychotic effects exhale a mostly morbid atmosphere, like an ecliptic outburst within one's cerebral cortex. This gets smoothly, and organically (!), followed by Réminiscence (do I have to translate it?), a short intermezzo that makes use of different sound effects, continuously interspersed by hypnotic soundswaves, and on his turn semi-friendly evolving into Résurgence, the fifth track that shows both a monstrous as well as a masochistic attraction. The sources are nasty and dominatively monotone and disturbing, but despite the repetition, the result is mostly intriguing once again. Misantropie comes to an end with Incantation, a Power Electronics beast that crosses the safe borders of normality. Vocal manipulation, mechanical experimentation and chaotic layers of harsh sonic rape interact the whole of the time, balancing in between nude statics and schizoid charivari. Towards the end of this quite lengthy 'song' it clocks over six minutes) it all sort of returns to an initial state of nothingness-before-time, as if birth did not exist yet, returning to the empty womb of the Cosmos.
There's Noise, and there's Noise. Sometimes it makes me nauseous, sometimes it arouses me. With Misantropie I am aroused big time. Seriously, forget those acts that try to be the harshest ones but lack of content and inspiration. And forgot those outfits that try to be as experimental as possible, but lose themselves in worthless and dull pulp. With L_Arsenne's newest creation, the deeper essence of extreme Musick has another highlight!