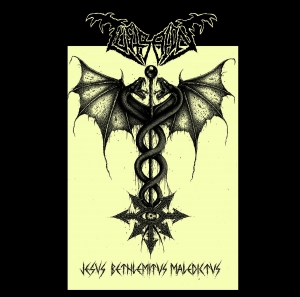 Album Title:
Jesus Bethlemitus Maledictus
Release Date:
Friday, December 25, 2015
About three years after their debut Psymbolic, Australia's Lustration torture mankind once again, this time under the banner of Jesus Bethlemitus Maledictus. With the knowledge that 'essentially, Earth is a lost cause' (and who am I to argue / disargue [I know this word does not exist – until now!]), the four-piece did record this sophomore album at their home city's MKH Studio (Brisbane, for your interest), with mix and mastering done at Temple Of Spinecode Studio.
Jesus Bethlemitus Maledictus brings just over half an hour of primal and old styled Morbid Death / Thrash / Black Metal. It's like a bad trip on a Sunday morning … Oops, back to 'professionalism'… No, seriously, this kind of sonic filth sounds like many Hells Headbangers- and consorts-alike aural ugliness, being primal, terrific / horrific, and totally lacking of compromises, trends or life's beauty. In general the song writing, as well as the performance, is quite 'primitive', but that does not necessarily needs to be a negative aspect. And it is not. Especially because the sound quality is quite appropriate, the primitive approach might not necessarily bother the 'true' fan of this kind of Sonic Terror (although…). But I do really mention 'the sound quality is quite appropriate', for the mix could have been much better, and then I am referring to the fact that I do really miss the rhythm guitar lines, which get totally neglected in favour of the echoing grunts and raging riffs. once in a while it does happen to the bass parts too, but let's say the 'swampy' atmosphere needs this sound... And sometimes there are even grinding eruptions that dirt up the whole nastiness – isn't that sweet?...
Damn yeah, it sucks when focusing on originality. And f*cking Hell too, for there is nothing that makes this release such a 'classic-in-spe'. But then again, with compositions like the epos Fading Light Of Atlantis, Lustration show a component necessary to convince. Okay, if you're looking for a clean or renewing album, then bla bla, but otherwise less bla bla bla for being composed within quite a fecund and prolific soil…
Blasphemy, Sadistik Exekution, Revenge, Goatlord, Obliteration and this kind of mouldy ear candy, and so on…