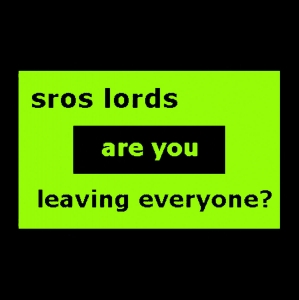 Album Title:
Are You Leaving Everyone?
Release Date:
Tuesday, November 1, 2016
A label that I came in touch with quite recently is Merdümgiriz, originating from one of those countries of peace, honey and freedom of speech, Turkey. For reasons I do not want to go deeper into the matter, they moved over to London – but that's a story that I do not want to dig out right here, right now. Anyway, they do house some excellent acts on their roster – enter the label's name in the 'search'-tab and you'll find some (evidently highly interesting) reviews that undersigned did for a handful of Merdümgiriz releases. Fact is that 'black', as well as 'fuck', 'drop dead', 'fuck black drop dead' and 'fucking fuck drop the fuck death black metal' are keywords that characterise the bands / projects signed to this label. So there was a specific wonder when I read that this label did sign Michigan based Punk Rock act Sros Lords. But hey, doesn't it all have to deal with that majestic fuck-off-to-the-world-attitude? So why not releasing an album that has nothing to do with Black Metal, but that still breathes sulphur and hatred? So, in a sense it all makes sense, does it not?!
And hey, the fabulous webzine Concreteweb indeed is so incredibly open-minded that there is no reason not to write some words down on this release. As a matter of fact, in the past we did quite some Punk-reviews; even undersigned did. So here a brief essay on Are You Leaving Everyone?.
The trio (singer / guitarist Morgan Blank, drummer Jamie Cherry, and keyboardist Johnny LZR) compiled thirteen (new) tracks under the Are You Leaving Everyone? flag, and once again the edition itself is quite original. Label-owner Emir Toğrul created each copy (CD and tape) with his artisanal handmade and visionary mark, avoiding machined industrial influences in lay-out and artwork direction.
Are You Leaving Everyone? brings so-called Slimernetik Punk Music, whatever it might mean – though it might give you an idea, evidently. But whatever this mob calls its muSICK: it rocks the Hell out of your skull! Overall, the concept is to play the primal essence of the true anarchistic scene that made people like Margadeath Thatcher, Carter and royal families lick their own wounds during the seventies / early eighties. Simplistic riffs, simplistic rhythms and simplistic compositions, woven into a glorious concept, lacking modernistic nonsense or any over-production – yeah, it smells, it looks ugly, and it hurts. And that's a grandiose advantage, for this kind of Sonic Sadism just needs nothing else but stench, ugliness and painful experience.
But there is more going on. It's not just the composing that is beyond imagination with its straight-forward attitude. Sros Lords do add that little more, a variety of subtly injected surpluses that make these guys quite distinctive from superficiality and mediocrity. It's the fine changes in tempo and melody, the (sometimes weird) addition of keyboards and synths, the hints of Rock and electronica, the persuasion of performance, and the variation in between the different anthems. No, seriously, Are You Leaving Everyone? is basically 'standard' at first listen, but there is so much more involved, and therefore a huge hurray for this sick three-man army.