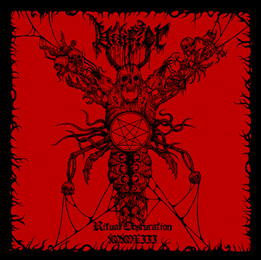 Album Title:
Ritual Obscuration MMXIII
Vilifier are an Australian combo, formed in Brisbane, Queensland in 2011 by members of e.g. Chemical Cascades, Kingdom Of Decay, Demonreich and Lustration. With the latter, for your information, Vilifier had a split-tape in the recent past (released via Supremacy Through Intolerance, a label that mainly releases material on cassette, by the way).
After that split, as well as a live-registration (also released on tape via Supremacy Through Intolerance), the band recorded the Ritual Obscuration EP, which was originally released in a very limited edition (100 copies only) in November 2012 via Crawling Chaos Productions. Now there's a re-release on CD via Forgotten Wisdom Productions, as well as on tape via Rising Beast Recordings. The material was recorded at the Milton Compound, and mix + mastering were done by Ignivomous guitar player Sean Hinds (who worked as mixer / master for acts like Lustration, Malichor or Sacriphyx too).
The four tracks on Ritual Obscuration last in between four and seven minutes and they surely are of the taking-no-prisoners current. Unfortunately it comes with a sound inferior to the total package, as if it were recorded in a tin box in one single take. Truly a pity, unfortunately a shame… The material itself, in the other hand, is very pleasant / pleasing. Vilifier perform that specific kind of Thrash / Speed / Doom-edged Death / Black Metal that keeps the Old School flame burning, but that, at the same time, exhales a timeless spirit of morbidity and necromantic eroticism. The atmosphere is extremely vile and grim, and the variation in speed (from slow over up-tempo to pretty fast) has been worked out very professionally. I do hear influences from many angles, but poured together in a unique way. Very early Darkthrone, when they were still known as Dark Throne, certainly comes to mind (up to Soulside Journey), as well as (earlier) Incantation. But references can also be made to Revenge, Profanatica, Impending Doom, early Beherit, Asphyx, NunSlaughter, Impiety and Blasphemy. I notice that this is a thrilling ensemble of acts, but once you've heard this material, you'll agree. It goes for the old fashioned approach of performance, as well as for the 'tribute'-part of the game.
Despite the bad sound (not terrible, but certainly an insult), I do highly recommend this majestic, magisterial aural violence!