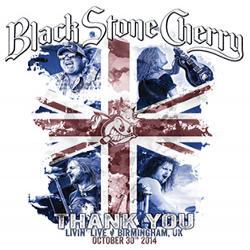 What an ignorant fool I've been.  I never ever had listened to Black Stone Cherry before having to
review this DVD and upon the first notes I heard, I regretted having been so stupid to ignore this band
completely.
Now as to why I ignored them completely ?  I really don't know.  Of course you don't get to hear them
on the radio that often, if ever at all,  Yet they were already founded in 2001, and were on Roadrunner
Records until recently.  So far they've released four studio albums, with a new album 'Kentucky'
planned to be released this spring – normally April 1st.
Now let me tell you why is really like this band.  Having seen and listened to this gig, I found that they
play honest, straight rock music.  Their songs aren't overly complicated, but they're chock full of
energy.  The crowd at Birminghams LG Arena, where this show was filmed, are in it from start to
finish, singing along to each and every song.  
If only I'd known sooner this band was that good, I have no doubt I would have gone to their concert at
Trix earlier this month.  This will learn me not to ignore certain bands, and also to have a quicker look
at the stuff I get to review and don't know, who knows what other hidden gems I might discover.