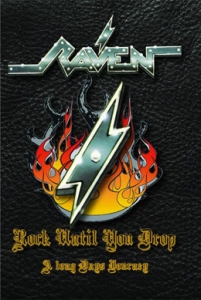 Ach, Raven...! Truth be told, when I found out this was among my to-do job, I was initially not too enthused. I'd come across albums by the band when they were first around, and not only got myself their first recordings (1981 debut album Rock Until You Drop, 1982's Wiped Out, 1983's All For One – with the 12-inch EP Break The Chain that was culled from it – and 1984's Stay Hard), but also a couple of their later albums (1988's Nothing Exceeds Like Excess and 1991's Architect Of Fear).
I admit having completely lost track of the band during the '90s (which still got us the 1994 album Glow and 1997's Everything Louder)...and even more so afterward. Of course, the band was out of rotation for a couple of years at the beginning of this millennium due to some personal mishaps, and I'm not sure that we (the website, I mean) even came across the band's 2009 album Walk Through Fire (the follow-up of 2000's One For All). For me personally, the first albums were the best, but that is possibly in large part due to the fact that as time progressed, "Hard" and "Heavy" music became more and more available. I tell you, you youngsters of these days are só spoiled! Of course, the backside of the medal, is that these days you have the embarrassment of the choice. Back at the beginning of the '80s, our choice was much smaller than today, and we usually tended to like whatever we could get our hands on. My personal alienation with Raven came one part due to the fact that their music quite easily progressed towards Thrash (without however losing its original typical characteristics), and on the other side it was due to the fact that I myself broadened my musical taste. The crux of the matter is, I lost interest...and the latter albums were in fact bought second-hand! Now if I had ever actually witnessed one of the band's shows, things might've been quite different! Because, as lead singer/ bassist John Gallagher himself states on two occasions, having séén a band on stage (either on video or on an actual stage), one tends to look at a band quite differently...a statement which I absolutely agree with, having come to like several bands only àfter having had to review live DVDs by 'em!
Okay, those preliminaries out of the way, I have to sum up the reasons why I feel this double DVD is a necessary buy. Besides the fan getting the occasion of witnessing on video what a frantic trio of nutters this band (besides John, you have his brother guitarist Mark, and current drummer Joe Hasselvander – whom replaced Rob Hunter back in 1987) is, disc one will give you a complete story of the band during a 190 minute Rockumentary, with comments given not only by Mark, John and Joe, but also by people whose live they touched [producers Steve Thompson and Michael Wagener, music luminaries such as Jon Zazula (Megaforce Records), Lars Ulrich (Metallica did its first US tour thanks to Raven, who were promoting their All For One album in 1983), Udo Dirkschneider (co-producer of All For One), Chuck Billy (Testament), Chris Jericho (Fozzy), Dave Ellefson (ex-Megadeth), legendary drummer Gene Hoglan, Onslaught's Sy Keeler, and a few more]. One negative comment : even when you take the "play all" option, the movie is interrupted at each section, and you have to open each section separately anyway! As a bonus on the first DVD, you get a photo gallery, which you can also play in a hands-off slide show. Disc two contains two sections: "Extra Stuff" and "Extra Songs". The first is a total of some 19 minutes worth of material which was nót included in the Rockumentary, but which is still worth the trouble watching. The second includes a total of 11 live recorded songs (ranging in age from 1982 to recent times, with a focus on the early days) and the promo video that was made for the track "On And On" in 1985. Disc 2 gets one some 78 ½ minutes worth of joys, the two discs together will have one spending at least 4 ½!
Money's worth? I'd say so! And I found myself ashamed to having been one of those not giving the band the attention they deserved. You know...it's amazing, but John sounds as good as he ever did!