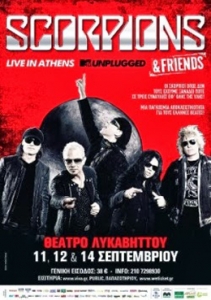 Album Title:
MTV Unplugged – In Athens
Release Date:
Tuesday, December 10, 2013
Missing on the CDs which you dó have on the DVD, are the inevitable short breaks in between the songs, and some of the cheering, I guess...enough to shorten the first 12 songs by about 5 minutes, and the next 13 by more than 10 minutes [I cannot believe there were actually that many "dead moments" in the show, but hey, make the count for yourself : the complete concerts lasted 2 hours and 6 minutes (not counting the extra time for allowing everyone involved in the show to come to the front center of stage to make a final bow for the audience) and the discs last 54: 11 and 55:04!].
What you also miss, are the expressions of emotion by the people involved, like the interactions of the musicians themselves, or Dimitra Kokkori breaking tears of joy for being allowed to participate to the event toward the end of her spoken word part...the sight of Kottak and Hecht playing the public during their "solo"...Cäthe's and Harket's broad smiles as they perform...the whole bunch of 'em crowding together on the stage at the end of the show, hugging each other from pure joy...the multiple emotional outburst of the audience...and of course, the near 42-minute documentary about the making of the show, which is really worthwhile (and from which part of the info used in this and the CDs' review was culled). Add everything up, and you get an almost perfect rating for a DVD which simply nééds to be among your favourites of the year.
Meanwhile, the band has announced that they liked the Greek experience só much, that the decided to have 4 more unplugged shows, to be done somewhere in Germany during the first months of 2014. Check the band's website for more details!