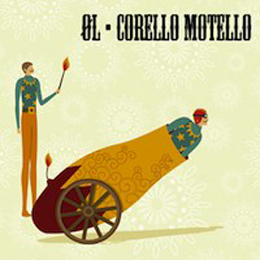 Release Date:
Sunday, September 1, 2013
By all means, the review of this Frankfurt based German Pop Rock/ Rock Pop quintet should've been reviewed 4 months ago, but somehow our editor-in-chief managed to waylay the download copy of the album. Ach, well...let's say that accidents will happen!
Having reviewed the band's previous studio album The Merging, I can safely direct everyone interested in the history of this band, to said review which was posted on Oct. 27, 2010. Meanwhile, I've come to understand that the band had a new line-up back then, with the induction of keyboardist/ backing singer Dirk. The band went on to release the 2011 live album ÖuFuip, which was recorded "unplugged". With a track-list consisting of 7 tracks off The Merging, 5 tracks off its predecessor Between the Lines, and 5 more off 3 other albums (one a sort of "compilation" of rare things) that album was already a display of the new synergies within the band, but the new studio album is the first where all five members really worked together to develop the ideas brought to the rehearsal room by main songwriter Sebastian (guitar & vocals). And according to the info each member has left his mark on the material. It also took a complete year from scratch to finished recordings to get the album done, and perhaps it's the time the band took to develop their new music (which is in essence the same as before, but perhaps with even catchier hooks and melodies) which is at the basis of the overall improvement.
The song "Heartbeat" (one of the Rockier Pop songs) was already released as a single last year in June and, depicted as the band's official Euro Football hymn, was used as such by several radio stations in Germany. Via the band's website (www.) oelmusic.de, you can get to sites (iTunes, Amazon.de, etc... where you can not only download the album's music (at a fee, of course), but also listen to 30-second samples of the songs, but perhaps there's even full-length songs at (www.) myspace.com/oelmusic (I cannot be sure, as I was unable to check with the out-dated network PC I use for my info-finding).