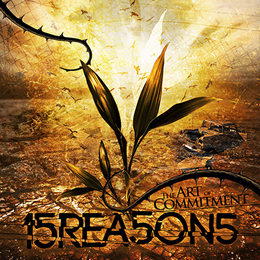 Fellow countrymen, rejoice, for a new star (could be born)…15 Reasons are a Belgian band, hailing from Brussels, and this is already their third album.
Why do I state a new star could be born.  I'll explain myself.  It's not that often in our beloved genre that I've had the chance to hear a band that could stand it's ground against any other foreign band.  There are exceptions of course, like Channel Zero and a few select other bands.  But this band certainly is a serious contender.
Not that their music is that original.  It's some Alice In Chains mixed up with a good dose of metal, so basically you get songs that are based on a strong riff..  But if this band could get some airplay and support abroad, they might be able to make a name for themselves.  Because they  are just as good as any other foreign band, fishing in these same waters.
Let's say that they surely have committed themselves to releasing this very good album.  What a sound, and that for a trio !