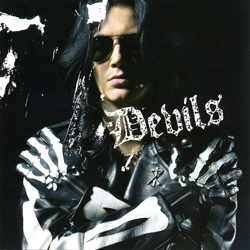 Since these two albums were released on the same date, I've decided to write one review for both albums.
As a matter of fact these are not new albums by this Finnish band, but rereleases of their 2007 'Angels' album, and their 2002 'Paris Kills' album.  I foind the 'Angels' album the better of the two, but I leave you the choice.  There will be a re-release of two of their other albums as well.
What surprises me is that the leaflet I received with these albums mentions them a being Gothic in genre.  I have been seeking for similarities with what we now call Gothic bands, but I'm afraid I haven't found it. What this band reminds me of is a band like The Cult, but there are also some hints of Him in their music, and maybe even some Sisters of Mercy.  What's very characteristic for this band is the deep voice of singer Jyrki 69.
It's been a while I've heard this type of music, and I must say I was very pleased, especially with the 'Angels' album.