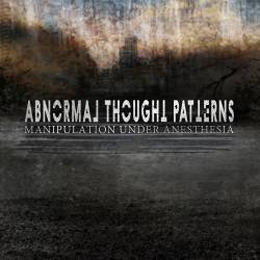 Album Title:
Manipulation Under Anesthesia
Abnormal Thought Patterns from California is the newest sensation in the world of instrumental heavy music. Although the band's name doesn't immediately ring a bell, twin brothers Jasun (guitar) and Troy Tipton (bass) along with Mike Guy (drums) were the back bone of Zero Hour. That band released five records in the 90's and was proclaimed to be one of the best progressive metal bands of that time.
Their debut album, Manipulation Under Anesthesia, is due to be released later this month and proves to be a real masterpiece. Sometimes, music says more than words and then it's unnecessary to add vocals to the guitar, bass and drum parts. That's also how this trio reasoned.
The record turned out to be a technical work of art and tells a story without the use of words
Although Abnormal Thought Patterns is a real metal band, they weren't afraid to add some other musical elements to their music. Just give the fifth song on the record, Calculating Patterns, a listen. It proves that even jazz and blues can add up to heavy music.
It was mastered by Alan Douches and unsurprisingly also does the mastering for bands such as The Dillinger Escape Plan and Between The Buried And Me, both very technical and progressive metal bands.