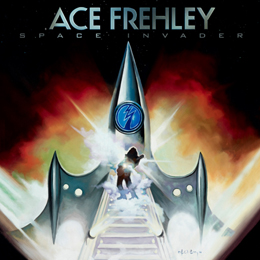 5 years after the release of 'Anomaly' former 'KISS'- guitarist 'Ace Frehley' is back with a new release called 'Space Invader'. After all the rumor about 'The Rock And Roll Hall Of Fame' if 'KISS' would do a reunion with their former band members 'Ace' and 'Peter Criss' the promotion is a bonus to promote his new album 'Space Invader'. 'Ace' went back in time for the design of the album cover, the cover is designed by an old friend: 'Kelly Ken' who also designed the legendary album covers of 'Destroyer' and 'Love Gun' of KISS 'Ace' promised in an interview that there was going to be more guitar work on the new album than on 'Anomaly' and he has certainly succeeded in that one. It can be compared with 'Trouble Walkin'' (previous album of 'Ace' in 1989). I would say: 'mission accomplished' a Kick- Ass good old rock'n roll record!!!
On to the album itself:
'Space Invader'
The song begins with a furious blues/rock riff. It's obvious: 'Ace' is back in business. With the typical 'Frehley' Groove, swingin' guitar solo and pumping drums it reminds me of a 70ies 'KISS' song.
'Gimme A Feelin'
This song is else the first single of the Album. It's even better than the previous song with more melodic sounds and a chorus that sticks in your head. Just a shame that they fade out at the end and therefore the song has no end. With a song without end, I have the impression that there is still something missing to make the song a killer song…
'I Wanna Hold You'
Also a great solid song with a good feeling, nice melody, rhythmic drums and a memorable chorus. One of the better songs on the album.
'Change'
A mid- tempo song where 'Ace' looks back on his past (alcohol/ drugs addiction) and how you can overcome it.
'Toys'
'For Big Boys' nice guitar riff that has already been used in previous work of 'KISS' certainly the beginning riff of the song.
'Immortal Pleasures'
Also a song of 'Ace' his past and the struggle with addiction.
'Inside The Vortex'
Again a song that we already heard of in some riff in a 'KISS' song and with 'Ace's typical solo technique/ style. You can't always reinvent yourself after such a long and successful career. A good heavy song though.
'What Every Girl Wants'
A happy up- tempo song with a frolicking 'Ace' at his age of 63 years, he is alive and kicking!
'Past The Milky Way'
'Ace In Space' back in his natural habitat. This song is for his fiancé: 'Rachel'. A song with a lot of feel in it about the way of life, outstanding guitar work.
'Joker'
A cover of 'The Steve Miller Band', the song suits him well. The song begins with: 'some people call me the space cowboy' 'Ace' knows exactly how to rework a song and put it in his perspectives. He has proven that with previous covers of songs such as: 'New York Groove' 'DOYA' and 'Fox On The Run'.
'Starship'
An instrumental song for last song on the album is no exception with 'The Space Man'. After the seven minute lasting song 'Starship' ends he concludes the album with the words: 'Did anybody see George Jetson?' of the SF- cartoon series 'The Jetsons'.
*the album
The first two songs are killer, but for the rest of the album you have to listen a few times to let it sink in. You can't compare 'Space Invader' with his solo album of 1978 because 'Ace' will never make such a legendary album again. 'Space Invader' is comparable to 'Anomaly' (his previous album) but with more accents on the guitar parts.
AND NOW ON TOUR ACE!!! (and preferably in Europe please)
Setlist:
1.   Space Invader
2.   Gimme A Feelin` (radio edit)
3.   I Wanna Hold You
4.   Change
5.   Toys
6.   Immortal Pleasures
7.   Inside The Vortex
8.   What Every Girl Wants
9.   Past The Milky Way
10. Reckless
11. The Joker
12. Starship