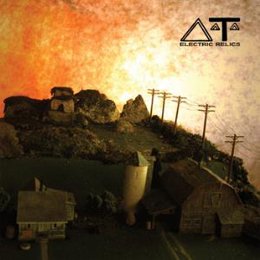 All of a sudden, our "Psychedelica" colleague was not answering his mails anymore, nor did any of his friends know where he might be...so, weary of the wait, our editor-in-chief decided to burden yours truly with the task of doing the colleague's job on top of my usual load of reviews!
No real problem to me, as far as musical taste is concerned, because I probably have the most eclectic taste in the whole lot of reviewers working at ConcreteWeb (which has not only grown that broad due to my personal inclinations toward music, but also thanks to my somewhat advanced age)...but of course the task was an extra on top of my usual load (which turned out to be a tad heavier than usual), and some of the colleague's work had been shelved for some time already. Hence the fact of this here album being reviewed half a year after its release! Okay, 'nuff ramblin'-on, le's get to reviewing!
Originally hailing from Denver, Colorado, "Heavy Psychdelic Americana Rock" (that's how they describe themselves) act Across Tundras is in essence the lifework of one Tanner G. Olson, whom founded the band back in 2003. Initially taking a slow start, the band self-released the first 4-track EP Divides in 2004. This apparently got the band signed onto the Crucial Blast label, whom released the band's 2006 full-length debut Dark Songs Of The Prairie in 2006, and followed that up with the 5-track EP Full Moon Blizzard a year later. The ensuing full-lengths Western Sky Ride and Lonesome Wails From The Weeping Willow, were respectively released in February 2008 through the Saw Her Ghost imprint, and in November of the same year through Forgotten Empire Records. Lonesome Wails was also the last album recorded on the way out of Colorado, down Nashville, Tennessee way, where Olson would settle down on a farm. The ensuing album, 2009's Herds Of The Fathomless Valleys, was apparently a tie-over release (consisting of demos, outtakes, b-sides, live tracks, and even a cover) until Olson could get a band together again. When that happened, the new line-up recorded the album Old World Wanderer (self-released in March 2010) and Moonshinin' (self-released a mere 6 weeks later).
Somehow, Across Tundras then attracted the attention of the infamous label Neurot Recordings, who released the band's following album Sage in May 2011...and I gather Olson finalized his home studio (which he dubbed Ramble Hill Farm, because in a very short time he would record and release several albums, these including the full-length Tumbleweeds (self-released in June, containing demos, b-sides, and home recordings from the Sage times) and the 5-track EP Metatotem by Across Tundras (also self-released, in December), and solo work under the name of T. G. Olson (including the March 2011 released Colt .45 Singles and the albums Ramble Hill Sessions 1-2 and Muddy Water Dredge Company). In 2012 Olson's recording frenzy actually produced even more solo material, including 6 episodes of his Blood Meridian For Electric Drone Guitar (compiled in March 2013 in one epic download album lasting an incredible 250 minutes!), plus the full-length Ruined Temple Blues, mini-albums Ramble Hill Sessions II : Dirges and Songs Of Woody Guthry, plus the album All The Way with the band Brightstar, on which he not only played but also did production. As far as Across Tundras was concerned however, releases were restricted to the one split single with Hellbender, issued through the Otherness imprint.
2013 started off with another solo single (Lake Bottom Blues b/w Shots Rain Down), and a return to focus on a new Across Tundras full-length, which we have now under our attention. Well, actually, the album was released through Bandcamp first, pre-dating the Cavity Records release of AT's split LP with Lark's Tongue by two days. Two years in the making, Electric Relics also sees the birth of the band's own label by the same name, and displays songs which are a weird combination of Neil Young songmanship with musical elements (so it is stated by the band itself on their facebook page) from Black Sabbath, Earth, Thin White Rope, Hawkwind, Thin Lizzy, Hum, Hank Williams, My Bloody Valentine, and Judas Priest. Weirdly enough, you'll actually héar those elements come though separately (without ever being a copycat, because of mixed with other elements, you know) from times to times, but in my mind the Neil Young thing is perhaps the red thread which holds everything together. The pace of the songs is relatively slow as well, which made me mistake the band's intents for Doom at first...until I read about the cited influences, of course. Vocals have a tendency toward melancholy, but without becoming self-pitying or nagging. In essence, any fan of the above should have a listen...and plenty a listen there's indeed available, at (http://) acrosstundras.bandcamp.com! Hum...pay extra attention to the weird album closer!
This very album was made available as download, and as limited edition 180 gram vinyl. Vinyl junkies, check it out quickly enough, and do it now!!!