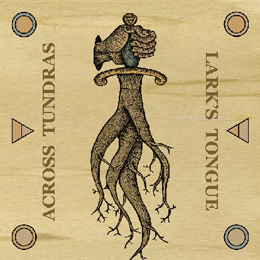 Across Tundras brings to the table a mixture of several different genres that some might say shouldn't may be crossed, but this band deliver the goods for sure. Across Tundras' contribution is much in the vein of their previous works albeit not quite as haunting country-like as their lastest Sage but certainly more doomy. "Low haunts" and "Crux to bear" are long spirited songs infused with elements from stoner, indie, folk, Americana and luckily doom.
Lark's Tongue's brand of alternative rock is rich in texture, vibrant in its multitude of tones, and infused with atmospherically ambient elements. At the first notes the underrated 3 Mile Pilot immediately sprung to mind but moments of Minsk, The God Machine and Tool also weave in and out of the two songs "Follow your nightmares" and "Aluminium".
Though these two bands compliment each other and have some common features, they are distinct from each other and it will be a matter of personal taste as to which bests the other.