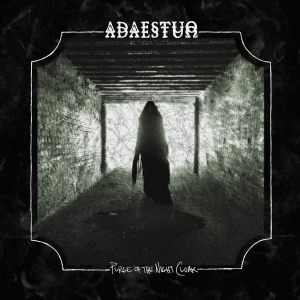 I do not give a score anymore when writing a review, and this since a couple of years. You know, giving points is such useless reflection of utter subjectivity and it says nothing at all. What's the difference in between 79/100 and 81/100. It's just a difference of nearly two percent, yet mentally it makes quite a difference. And it is not because I give a score of, for example, 99/100 that you need to agree. I nowadays rather prefer to express my ideas through the canalisation of my thoughts and impressions into a review. This said…
One of the last reviews I did that still did include a score was Krew Za Krew by the trans-Atlantic project Adaestuo. Why do I mention this? Well, it must be one of the very, very few reviews I ever did, with a modest 100/100 (!). I still consider that album, well, like a milestone within the unlimited ranges of blackened Aural Art. It was like a mysterious mixture of Occult Black Metal, Ritual Ambient, and everything in between, bewitching me the whole of the time, and time after time.
Bon, in 2016, two years before the official release of Krew Za Krew, Adaestuo released their debut-EP Tacent Semitae, and in early 2020 this trio came up with Manalan Virrat, which didn't contain 'Metal' elements at all (but believe me: the blackish atmosphere never faded away at all!). And now, these guys and girl return with another EP, called Purge Of The Night Cloak. Once again, it gets released via the World Terror Committee aka W.T.C. Productions (only Manalan Virrat wasn't released via this Germany-based label, yet through Umbra Dei, in case of interest; also Hekte Zaren's album Near Life Experience saw the light (and the darkness) via this U.S.-based label). The band takes care of the digital released, while the committee releases the physical edition. At this very moment, that's a compact-disc version, but (probably?) there will be a vinyl-release too in the (near?) future. And it comes, once more, with intriguing artwork.
The line-up is still the very same international one: multi-instrumentalists VJS from the U.S. of A. (you might know him from his former and current activities with e.g. Vaeok, Demoncy, Kult Ov Azazel, Nightbringer, Sargeist or defunct Incursus (with an important link to this project (*)), amongst others) and P.E. Packain from Finnish soil (think: Horna, Vitsaus, Sargeist, Cornigr or his new solo-outfit Theriomorph), and vocalist Hekte Zaren, with roots in Poland and a link with Belgium (and involved with hundreds of projects within (Black) Metal and Dark Industrial / Drone / Ambient, besides her self-called solo-outfit).
[(*) 'the name 'adaestuo' is actually taken from a release by Incursus from 2013; besides, former Incursus-member Horidus, who replaced mortality by eternity in 2012, wrote some lyrics back then that are used on this specific EP, apparently; unfortunately I do not know which ones, for I can't find it]
Purge Of The Night Cloak consists of four titles, having a total running time of twenty-three minutes. It starts with Act I, immediately manifesting this project's very specific approach. Act I opens with grim noises, rough yet almost transcendental, including martial-sounding drum-patterns and an evocative voice. You feel the tension rising, slowly but resolute, and after a minute (already being a monumental first minute!), Adaestuo show their bleak, abyssal, and scarred face. Unpolished yet hypnotic string-melodies, multiple-layered, impregnated drum-work, and icy throat-rape get canalised into a monumental work of blackened elegance. There is so much to experience, so many levels of in-depth intrigue and well-thought excitement; I mean, how is it possible to search for, and find, a balance of fast-paced eruptions and gloomy-doomed passages in such organic way, injected by mesmerizing leads and piercing solos, blasting drum-beats versus slowly militant percussions, and a huge variegation of vocal ranges. Besides, as from half of this composition, a next fragment with ominous piano tunes, floating synths and ethereal voices (plus those grim scream-like vocal chords) takes over the harsh adventure, and it just sounds so naturally evident.
The shorter piece Act II attacks like a rabid werewolf on speed; an apocalyptic outbursts of mercilessness and, at the very same time, melodious finesse. The characteristic string-melodies, the typifying vile vocals and the unstoppable rhythm-section are gathered as one sonic avalanche, where exaggeration gets defined as craftsmanship, and ferocity as virtuosity.
Convoking voices from different angles introduce the Death Ambient modus operandi of The Hydra, the third hymn on Purge Of The Night Cloak. After a (short) while, haunting drum-designs (slowly beating, and therefor so overwhelmingly obfuscating) and lugubrious keyboard join the summoning, then again fading away, while being replaced by the sound of waves and winds for a while. Step by step, things evolve towards a ghastly and severe - hypnotic too - soundscape, at the one hand meditative with its soporific sound, at the other suffocating because of the paralysing atmosphere.
Adaestuo offer more aural hypnosia with Act III, mixing up slowly-crawling-forward-like riffs (including that high-levelled melodic character) and diverse vocal timbres, strengthened by supportive percussions and mind-blowing string-solos. The whole gets covered in mystery and awe because of the unpolished and gnarled (and therefor truly appropriate) production and the evident well-balanced mix.
As I mentioned above: I do not give a score (in numbers) anymore since a couple of years. But I love to swim against the stream from time to time. Therefor: 101/100! Should I add a smiley too right now – a horned one, of course?...
https://adaestuo.bandcamp.com/album/purge-of-the-night-cloak
https://w-t-c.web-republic.de/store/product_info.php?products_id=13153
https://www.concreteweb.be/reviews/adaestuo