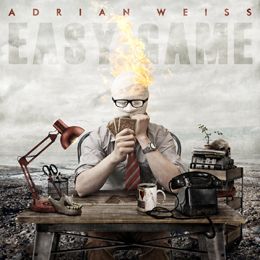 For those not familiar with the musician Adrian Weiss, let it be know that this Düsseldorf-based 1976 born German guitarist started out his career with Prog Rock/ metal act Thought Sphere, having picked up his instrument for the first time at the age of 15.
Active between 1996 and 2002, Thought Sphere released a total of 4 full-length albums, two of which appeared on the B.Mind Records imprint (and one of which at least I seem to remember having reviewed back in the days). Already in the year 2000, Adrian had joined the more extreme Progressive Metal act Forces At Work, of which he is still a member. So far, he was featured on the band's 3 EP's and one full-length album (some of which, again, went through my desk for review). In between, Adrian made a contribution to the 2004 solo album Majesty & Passion by Victor Smolski (Rage).
In 2007, Adrian started the recording process of what was to become his debut solo album Big Time. Featuring 11 songs he'd written since 1999, the album also included plenty of guest performances [including Victor Smolski, Joachim Kreer & Björn Sondermann (of Assassin), Thorsten Praest (of Coldseed, Gut and Huenerfriedhof repute), and Goran Vujic (former Though Sphere colleague, and known also from Gut and Lafee). Following the release of that album in September 2011, Adrian formed a solo band (featuring guitarist Demian Heuke, bassist Marcel Willnat and drummer Lars Zehner – all of whom had also performed on the album) in order to promote his music on the live circuit. Turning the clock back a notch, to 2008, we find Adrian contributing to the Injectisized album by the band N-Jected (of whom, if I'm not mistaken, I reviewed an album, not thàt long ago).
As a solo artist, Adrian also performed clinics and gigs at various events, these including the Guitar Fight Convention (from 2009 through 2012, making second places in 2010 & 2011), Dresden's 2009 MyMusicExpo, and the 2011 New Dusseldorf Pop music convention. He began touring the German stages with his instrumental band, and since May 2014 he also became the permanent lead guitarist of the Power Metal band Gloryful, having been a live stand-in since the year prior and also having contributed two solos to the band's sophomore album Ocean Blade (released April 2014, Massacre Records). He also recently made contributions to the 2014 released albums The Equilibrium Of Minds Vol. I and Treumal, respectively by Pictura and Demian Heuke (whom has apparently left Adrian's solo band, and is currently roaming the venues in Germany in promotion of his own solo album).
So, now Adrian's back with a new instrumental solo album, and with cited influences coming from the likes of Steve Vai, John Petrucci, Greg Howe and Joe Satriani, it shouldn't be hard for the "in" crowd to gather that Easy Game is a rather versatile guitar-oriented album! And therefore something right up their alley. For the ever-doubters, or those not knowing what I just talked about, there's a possibility to discover some of Adrian's music (including some stuff from his solo albums) at his facebook page, and even more material ff the solo albums can be listened to at Bandcamp.com. Let it be known also, that people such as Christian Münzner (modern guitar virtuoso known as solo artist, and from his role with the bands Obscura and Necrophagist) and Jens Basten (of Gloryful, but also of Night In Gales and Deadsoil fame). If you're into the artists mentioned at the beginning of this paragraph, then Adrian Weiss' music will certainly be of your liking, indeed!