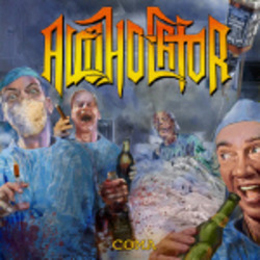 As damaging for your ears as drinking a quart of whiskey, as inebriating as chugging a pitcher of your favorite hoppy beverage; your neck will ache as much as your head will from the hangover that comes from Alcoholator's thrash metal.
They  hail from Montreal, and deliver the finest brew, perpetuating the original recipe of our favorite metal brewers while adding our own special ingredient into it to give even the most demanding taster its poison. Our 4 brew masters are hard at work creating their next Ale for you all to enjoy at home or maybe even at... your local pub?
Well that's the bio they wrote themselves. But do they live up to the test? I have to admit that i caught myself tapping my feet and nodding my head along to their old school trash metal songs. So yeah it is great music, but very cliché, their music, their image, the whole package. But they can get away with it because their album is just that good.