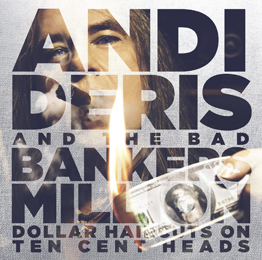 Album Title:
Million Dollar Haircuts On Ten Cent Heads
Release Date:
Monday, November 25, 2013
Andi Deris , for who we know of being the lead singer of one of the greatest and most popular heavy metal bands worldwide, Helloween. So basically you could have a fair idea of who he is and what he has done already. Now, the man returns with another solo album, witch hasn't happened since 1999.
His new album entitled "Million Dollar Haircuts On Ten Cent Heads" was recorded together with his band "The Bad Bankers". On this record, Andi criticizes the grievances of the economic system and its corruption( a bit typical in the metal scene but ok).
Now I'm not really a Helloween fan, so I wasn't really waiting for this record. And when I heard it, I knew I wasn't missing out on something. It reminds me In some bizarre way of a crossover between Limp Bizkit and The Murderdolls. The biggest problem I have with this record are the vocals.
Don't get me wrong, Andi has some serious skills witch he proves in his heavy metal band. But clearly he has some problems with this kind of genre witch brings down the entire album.