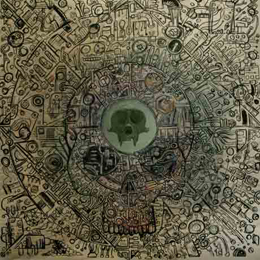 One of the finest labels for those with a liking for 70s influenced style stoner rock is Californian label Ripple Music, whose latest releases (Mos Generator, Grifter, Stone Axe, Devil To Pay, Mothership) maintain the quality and reputation with energy a-plenty.
Ape Machine is a hard hitting US melodic mix of Uriah Heep, The Sword, Clutch and Black Sabbath and Mangled by the Machine is their third outing. An appealing cd , sure, but nothing groundbreaking. Ape Machine doesn't pretend to be anything but what they are, rock and roll. The music contains enough variety and changes frequently enough to avoid any monotony if you enjoy this kind of stoner metal. A large portion of it is comprised of upbeat tunes that you could see yourself sharing a few beers with friends to while shooting pool at the pub. The four-piece plays with confidence and a certain flair, sounding tight and fresh at the same time. The vocalist does an excellent job and his voice is perfect for their sound. The guitar work, both on the grooving riffs and solos, by Ian Watts is as good as any you will hear these days.
There's nothing innovative here and most of the songs are verse-chorus-verse, but it's very anthemic and catchy. So, if you dig straight-up 70s psych/blues/ hard rock sound with very good guitarwork, pick it up and you should be mangled by the Ape Machine.