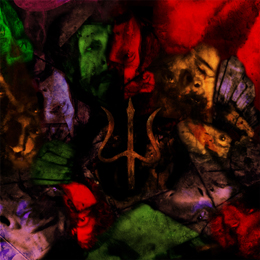 Anyone hungry for some late '60s – early '70s styled acidic and raw energetic Psychedelia? Find your fill with the coming to light of Aqua Nebula Oscillator's third album, their Pee Wee Records debut!
Formed in the year 2000 by David Sphaèr'os, ANO has become one of Europe's most accomplished Underground Psychedelia bands, by means of its previous albums Under The Moon Of...Aqua Nebula Oscillator and Caves Recordings 1998-2008, which met with both critical acclaim and fan reception, and established the quartet as one of the most diverse, creative, and weird bands o the last decade. Their reputation not only saw the guys play support slots at shows by such renowned as Sky Saxon, The Dead Weather, The Black Angels and Black Acid, but also caused the band to be hand-picked as opening act for The Cult's 2009 European Love tour.
According to the info I got with the promo download copy of the album, the band's music is inspired by parallel dimensions, voodoo, ethnic trance, horror and cult movies from the 1920's to 1950's, painters like Hieronymus Bosch and Salvador Dali, dark underground literature (H.P. Lovecraft, Isodore Ducasse, Antonin Artaud), aliens, and UFO's. Their sound is described as "A modern mix of Krautrock/ motorik with Hawkwind-style psychedelia, Hendrix-styled, ultra tripped-out guitar action, and an apocalyptic, Raw Power energy...", more generally as "...ASO looks and sounds like it was buried in a tomb in the late '60s/ '70s and has just been dug up...", or...more specifically as "ASO's mind-burning, dark and dirty "chaos-sound" is a cauldron full of seething, primitive Acid Garage Punk"!
I mean, that latter one puts the hammer on the nail! It is said to be for fans of Wooden Shjips, Turzi, Goblin, Circle, Silver Apples (which are all acts I haven't had the pleasure to come across yet...unless the label means Orange Goblin), Acid Mothers Temple, Joy Division, Hawkwind, MC5, Ravi Shankar (hell yeah, there's a couple of tracks with sitar-like sounds!), Sun Ra, and Interstellar Overdrive-era Pink Floyd...but the latter bands were never as heavy as ASO! Of course, there's a couple of calmer songs, namely "Dead Soul" (which still has quite some energy in its music, but has calmer lyrics with repetitive lyrics) and the album closing "Incandescence". Calmer overall, and again with repetitive lyrics, we find the latter having a calm spoken word passage in the second part of the song...done in the French language. Which has me suspecting a French nationality for the band. I'm sorry I cannot be more precise on that point, but I was quite unable to check out anything on the Internet, so...do some searching for audio on this without me giving you the sites beforehand for once. I assure you, the trouble's worth it! Album of the year material by all means!