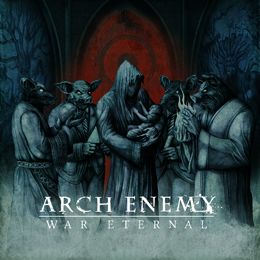 When Carcass fell apart, two ex members Michael Amott and Johan Liiva joined forces with Daniel Erlandsson, and Amott's younger brother Christopher, to form Arch Enemy.  Their debut album 'Black Earth' was released in 1996, and obtained some success in Sweden but was better received in Japan.
In 2000 John Liiva was replaced by German female vocalist Angela Gossow, but for this album, their latest effort so far, Angela has in her turn be replaced by Alissa White-Gluz (The Agonist) and Christopher Amott had already been replaced in 2012 by Nick Cordle.
As a matter of fact I'm having split thoughts about this band.  There are some songs I simply find fantastic, but others almost make me vomit.  And this has mostly to do with the vocals.  On the musical side this albums stands like a brick, no correction, concrete  house.  But the vocals…oh my god.  I have never ever heard a woman with such a voice.  How she manages to bring a full concert when singing like this I don't understand.    Her voice is harsher, her shouts are stronger, than some of her male counterparts. You'd never give her that, if you look at her rather good looking appearance.
I must admit though that this is only the second album I've ever heard from Arch Enemy, while long term fans of course might be accustomed to this type of musical onslaught.
My verdict : the music itself is great, despite the vocals.  But the combination doesn't totally work for me.