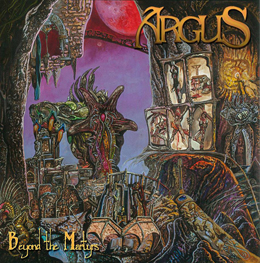 Pennsylvania's Argus stormed onto the underground metal scene with their doom/progressive metal sound.  They released a self-recorded demo in early 2007 on "Bland Hand Records". Their self-titled debut album soon followed and was released in May of 2009.
If you want to compare it to other bands, I have to admit that this reminds me of " The Sword" in several ways. But to be honest this record feels rushed. Don't get me wrong, there is no questioning these guys. They know how to make good music, but the production level of the album isn't up to modern day standards. For example, the crossovers between songs or sometimes to long or just feel wrong.
Apart from that, this is a good "doomish" album. But yes, due to the production that casts a shadow over this album, it lost some of my interest.