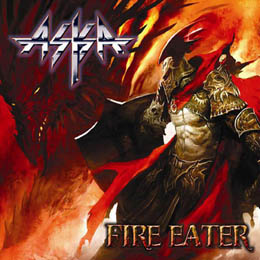 Release Date:
Friday, September 27, 2013
Aska was born during the alternative and grunge music movement of the early 90's, and is from Texas. The band can best be described as traditional power/heavy metal in the same line as "Judas Priest". The band consists of George Call (vocals, guitar), Keith Knight (vocals, bass), Chris Menta (guitar), Danny White (drums) and Dave Harvey (bass).
Their latest album (Fire Eater) was released in September and is their 6th record so far. Now I never heard of the band before so I have nothing to compare it to, but this record isn't my cup of tea. Clearly this band has the experience and the skills, but sound wise these guys don't make an impact big enough to really leave a mark or impress. But that's the only problem with this album. Perhaps this is more of a live band like most power and heavy metal bands.