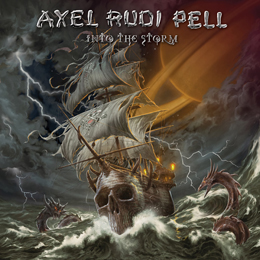 Fans of Axel Rudi Pell can buy this new album without any hesitation.  Once again, this band, who started out in the late eighties, has brought us a very good album. If, like me, you're old enough to have lived in the eighties, and are a metal fan, you might probably still remember Axel Rudi Pell's  work with Steeler (The German Steeler, not to be confused with the band  that featured Ron Keel).
Since he started this band however, his musical style went in another direction, more influenced by British bands like Deep Purple and Rainbow.  And he's been more or less keeping on that style of music over the years, despite many line-up changes. For this album there's also a new band member, although the term new is not quite correct.  After all Mr.Bobby Rondinelli has been drumming with some very famous bands like Rainbow, Blue Ôyster Cult and even Black Sabbath.
There are 10 normal tracks on the album, and two bonus tracks.  Why they deemed it necessary to put a cover of Neil Young's 'Hey Hey My My' on this album is a mystery to me.  It stands out like a pimple on an otherwise immaculate face, and that's thanks to the interpretation they gave to this song.
But besides that, it's a very good album.