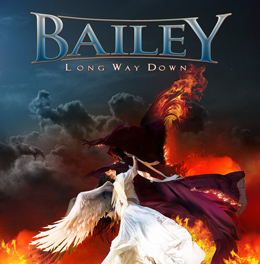 When I saw the name Bailey I immediately thought of Blaze Bailey, but this is an album by Nigel Bailey, frontmen of Three Lions.  As a matter of fact the release of this album is only six months after the release of the Three Lions album.
Musically it's in the same vein as what his group Three Lions brings us, albeit maybe a little heavier., but it's still rooted in classic British hard rock.  The production was done by Alessandro Del Vecchio, who did a great job, and who also played the keyboards and did the backing vocals, together with andy Bailey.  Drums were played by Alessandro Mori (Mitch Malloy, Paris), and guitars were handled by Mario Percudani (Lionville).
As a matter of fact to categorize this album as classic British hard rock isn't completely true. Some songs are wrapped into an AOR jacket, which makes this album interesting for lovers of both genres.