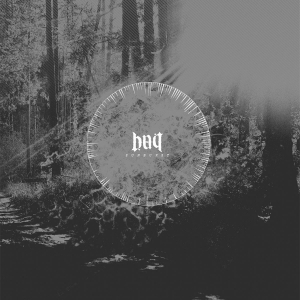 Bait are a German combo that did surprise me quite intensively in early 2014 with their Cursed Among Saints EP. The most revealing element was the ease of combining things: modernism with old school, rhythm with melody, speed with slowness, all kinds of emotions, and the contrastic yet, in this case, quite symbiotic styles: Hardcore and Post-Hardcore, Sludgy Doom and Black Metal. Their success exponentially grew, quite fast, and the band was able to play live all over European soil.
The band now returns with a new five-track EP (clocking just under half an hour), coming in two limited vinyl editions, being one in white / grey / black pattern, and one in so-called 'doom black'. And they surely go on, and further, where they ended with the higher mentioned Cursed Among Saints record.
With Sunburst, those Germans continue their eccentric and highly qualitative attack on the listener's ear drums. Massive, monumental, colossal, this EP hits and hits again, leaving no room for recovery or resurrection, haha. No, seriously; the professionally crafted and finely executed combination of slower Sludge passages, fierce Metallic Hardcore elements and technical Post-oriented details, permanently spiced with eye for detail (melody and structure are keywords!), and continuously subject to sudden changes in speed, are of a rare high quality. All five compositions come up with that something 'more', something that makes this result far better than many other would-be bands that sicken our scene lately. Bait are able to focus on the essence (i.e. creating great material), rather than losing themselves in superfluous desultoriness, which is ridiculous, of course. They put energy, character, and atmosphere in all of the tracks, without selling their souls for cheap guile and superficiality. On top of it, the energy feels so devastatingly correct, and this goes perfectly well with the contrasted ease of play, and the tranquillity within the slower passages.
After the fabulous scenes of the U.S.AHA, Belgium, the U.K., France and Sweden, we can put Germany on the very same map too, as from now on!