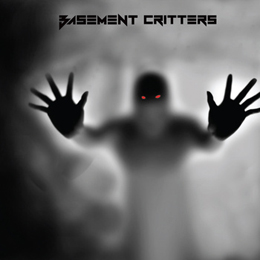 Founded in 2011, and consisting of singer Thomas Marijse, guitarists Didier Cottenies, Sven Caes and Glenn Labie, bass player Frederik Declerck, and drummer Gianni de Lobelle (whom recently affiliated himself to this here website as a reviews writer), Basement Critters is a Belgian Heavy Metal band with roots in Punk-Hardcore act Fuseless (of which some BC members were part), which rocked the local stages in the Flanders provinces during the '90s.
And so, while the music itself is rather more influenced by the classic "bigger" Heavy Metal acts...with a spot of Thrash thrown in as well, the attitude of that former band runs like a ghost through the lyrics and vocal stylings of the singer, at least. The guys sure took their time "coming out", because it wasn't before late April of last year that they first set foot on a stage, playing their debut show at the festivities of the town of Avelgem's Week Van De Roos. Since then, the guys have chosen their opportunities wisely (geared perhaps also by having to coordinate 6 schedules to coincide in mutual free time outside the rehearsal room not only playing a couple of smaller venues (a stage most beginning bands necessarily go through), but also putting in performances at a couple of smaller scaled festivals (NoFrock in Antwerpen, and Hard Rock Fest  in Avelgem...which I am beginning to suspect is the band's homebase), gradually enlarging their fanbase by some of the more die-hard music lovers.
Because I'm quite certain that BC gained new fans with every show, you know! I mean, one needs only listen to the band's music, as displayed on the 3-track EP (songs included are "Die Hard", "Gadget Generation" and "Back From The Old Days" - the latter perhaps sounding more like a Melodic Hardcore track), or as live video shoots at YouTube [one song is posted on the band's own (http://) basementcritters; more can be found at (www.) youtube.com/user/BasementCritters666)]. What more's left for me to say but...enjoy!