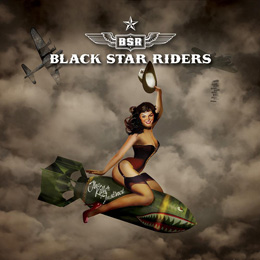 Release Date:
Friday, February 20, 2015
Line up :
Ricky Warwick - Vocals
Scott Gorham - Guitars
Damon Johnson - Guitars
Robbie Crane - Bass
Jimmy DeGrasso – Drums
Just how far can this review go without mentioning Thin Lizzy, but hey, we've already done it. But for the record let's make it clear from the start that like many others, we offer the utmost respect to Scott Gorham and his gang for picking up and running with the baton, which is the Thin Lizzy legacy, and doing it under the guise of Black Star Riders, who in turn it has to be said are proving to be quite some band. It's a confident, blazing hot, and deeply satisfying album that rocks hard from start to finish and literally left me smiling as I listened to it.
There are spine-tingling moments of hard rocking magic throughout, like on the rowdy and swaggering 'Sex, Guns & Gasoline'  probably the hottest track on this album, and that's saying something  with 'Scott Gorham' proving that he's still one heck of a sexy riff-beast on guitar. That same magic also blazes through on the raw and rib-shakingly powerful 'Turn In Your Arms'. Actually, every time Gorham and Damon Johnson rev up their divine twin guitar engine, there's enough energy and heat coming off the whole band to melt at least a couple of polar ice-caps.
The hard-rocking magic is there again on 'Bullet Blues', a track fueled by more great guitars; the heavy, tasty bass work of 'Robbie Crane'; and killer drums by 'Jimmy DeGrasso'. It's an all-fired-up, hooky-as-hell tune bursting with the same infectious energy that permeates the whole album: these guys are playing at the top of their game, and plainly enjoying every minute of it.
Black Star Riders showcase the true range and power of their combined musical skills on The Killer Instinct: they're all ablaze and defiant on the title-track  which just happens to be one hellacious stomper of a tune; they spin a gorgeous, touching tale in 'Finest Hour'; and unleash some seriously bluesy, heavy rocking power in the irresistible 'Through The Motions'  one of my favourite tracks in this stellar track-list.
Talking about his song-writing partner' Ricky Warwick's' writing style in an interview*, 'Damon Johnson' described it as: 'he writes great folk songs with really loud guitars', and that's spot on. Every track here tells a story, and it has to be said that Warwick's way with words and vocals really puts a big, throbbing heart into this album. The epic and soulful 'Soldierstown' with its strong Celtic vibe is a prime example, as is 'Charlie I Gotta Go'  an outstanding track with Warwick's vocals at their very best: rugged and warm and with that deep Irish rumble. Gorham's and Johnson's guitar-work here is ridiculously good, and the tune sounds like an instant classic to me.
'Blindsided' is another great example of Warwick's golden pipes and golden touch with lyrics, making it yet another standout. The guitar-work is beautifully intricate almost delicate  with Warwick's voice just bruised and bleeding with sorrow and pain.
Final track 'You Little Liar'  another favourite of mine, has Black Star Riders flexing every hard-rocking muscle in their arsenal, all attitude and defiance with blazing hot guitars, and crushingly good bass and drums. It's an absolutely smashing track and a terrific way to close out an exceptional album.