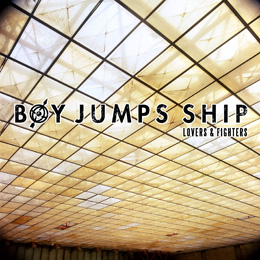 There's really very little info to be found about this Newcastle-upon-Tyne based Alternative Punk Rock quartet (membership of Si, Gav, Jonny Rob and JD...with no indication as to what each one of 'em does in the band), and I wasn't even able to find out when the band was founded! Oh, do not confuse this British band with an outfit called Cabin Boy Jumped Ship.
What I dó know, is that prior to this 5-track EP, the guys already released another EP entitled Be Goog. Be Gracious, which got 'em rather positive reviews by some of the more respected UK paper and online magazines. What with influences cited including the likes of Brand New, Taking Back Sunday, We Are The Ocean, Hot Water Music, Death Cab For Cutie and Jimmy Eat World (alongside Manchester Orchestra, Foo Fighters, Nirvana...and The Clash), one should understand that the boys indeed play an exhilarating type of Punk Rock with great lead guitar play and soaring melodies. Vocally, you can expect a lot of harmonies, and lyrically there's a lot of teenage angst mixed with social awareness (indeed, some of the songs' lyrics incite to riot and taking over from those that rule us...sound familiar?).
Regretfully, the three songs posted in the "BandPage" section at (www.) facebook.com/boyjumpsship are off the older EP, but there's a video for a song ("Call To Arms") off the new EP posted in the"Timeline" part of the page (this linking to YouTube where there's more videos by the band). Also, the band hasa page of SoundCloud (which I could not get onto with my outdated network PC). Check it out and enjoy!