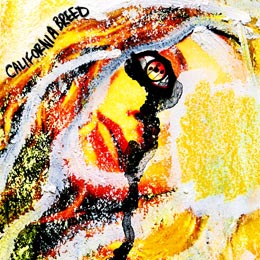 California Breed is a new band, consisting of two old timers – so to say – in the persons of Glenn Hughes and Jason Bonham, both formerly busy in Black Country Communion and newby Andrew Watt, a singer-guitarist.
It must be said that Glenn's voice has almost not changed, since I first heard him back in the eighties on a Deep Purple album and later on also on a Hughes/Thrall album, but what was especially astounding was how good this trio sounded. Is sounds a bit as if Jimi Hendrix met up with Led Zeppelin, and to flavour the soup a little bit of grunge was thrown in as well, besides a good dosis of blues rock of course.
Best track on the album undoubtedly is 'Midnight Oil', but there are other highlights on this 45 min-album.  It's very diverse, you get to hear lots of different music styles, but always with a basis of heavy, bluesy rock.