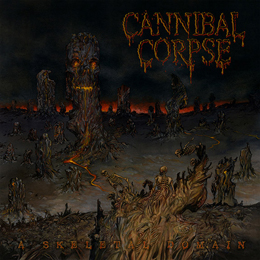 Release Date:
Friday, September 12, 2014
Cannibal Corpse is an American death metal band from Buffalo, New York. Formed in 1988. Cannibal Corpse was established 1988 by members from earlier Buffalo-area death metal bands; Beyond Death (Webster, Owen), Leviathan (Barnes), and Tirant Sin (Barnes, Rusay, Mazurkiewicz). Current members are: George "Corpsegrinder" Fisher – Vocals, Rob Barrett – Guitar, Pat O'Brien – Guitar, Alex Webster – Bass, Paul Mazurkiewicz – Drums.
Not a lucky number this is the thirteenth album "A Skeletal Domain". Again an album with themes as Torture, Evisceration Plague, and Kill. With powerful rhythms an speed riffs. But I had to wait till the third number "Kill or Become" to find something special and more lethal; "fire up the chainsaw". And then the title track starts a little bit slower but again a great head banging song. There is one song that stick out of the rest and that is "A Skeletal Domain". Little resume of the album; speed, scream, riffs and more speed. Buy this album if you like Cannibal Corpse, maybe not so good as their previous album "Torture" but there are some new song that inspires me.