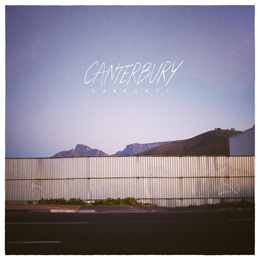 Release Date:
Friday, February 14, 2014
Canterbury in an Englisch rock band, formed in Farnham, Surrey 2005. The current members are Luke Prebble (lead vocals, bass guitar), Mike Sparks (vocals, guitar), James Pipe (guitar) and Chris Velissarides (drums, percussion).
Dark Days their third album is produced by Peter Miles (The King Blues, We are The Ocean) and mixed by Adrian Bushby (Muse, Foo Fighters). "Expensive Imitation" is a strong starter of this record. Starts a little bit mystic and then the guitar breaks into the song. "Satellite" fourth song, a tempo, heavy rock song, 'Stay alive' yes. Great song voice, guitar riffs it all fits and then the choir as backing vocal. I like it! "Hold Your own" Start real harmonic with piano ,drums and choir. But after 2 minutes a guitar riff that rips the song open…nice try to explore new things. A song with power! But that's all that is worth to quote. The last song oke, but it sounds more like R&B/Pop. A cd to explore their interest wide open. Check them live I think it's worth to see them.