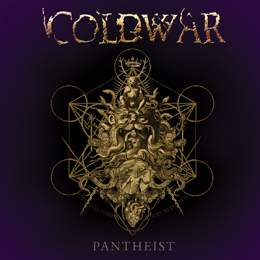 Although active for more than a decade, this Dublin-based band remained a heavily tipped act in the Hardcore/ Metal Underground scene...but with their newest, the 5 Irish members certainly have a chance of breaking through in the major league of players!
Founded in 1999 by bassist/ singer Paul "Skinny" Kelly (formerly of Coitus), guitarist/ singer Ian Lawless, and drummer Bernard "Brayo" Brady (details of their getting together are divulged at (http://) irish-metal.blogspot.be), the outfit was originally an Hardcore Punk act with metallic flavorings, but as time passed more and more Metal elements came creeping into their sound, until currently the sound is rather a Death Metal with Hardcore influences. In their founding line-up, the band released their Gods Of War demo in 2001. Over the years, several (but none too many) line-up changes occurred, starting with guitarist Paul Nash (formerly of Clay Pigeon) joining in during 2002, and the updated band released their 10-track EP Whore Bred And Hell Raised through Lawless's own Underground Movement imprint. The original drummer left that same year, to be replaced by former Clay Pigeon and Two Tales Of Woe's Gavin Burns. But his tenure turned out to be temporary only, and during 2003 current drummer Marty Mc Elhinney took up his place behind the drum kit. 2003 also saw Trevor Mclave joining in as lead singer.
In that new line-up, the band went on to release the 2004 full-length In The Sun's Dead Rays, a 6-track affair which was again released through Underground Movement...who also released the band's 3-track Promo 2006 EP, and the ensuing full-length, 2007's Bloodfire Sunset (which incidentally included all 3 tracks off the promo-EP)...in spite of Lawless departing from the band in 2006, to be replaced by former Deadlock's Bert Gore! 2006 also found the band release its debut DVD Live At CBGB, with material recorded in that place in 2002. The band closed the first decade of its existence with two line-up changes, one to add new second guitarist Eoin "Brod" Broughal as replacement for Gore...the other on a sadder note, when the only remaining original member suddenly passed away. 2010 started with the recruiting of new bassist Andy Coade (ex-Slave God), and with him in the fold the band recorded its third, and this time self-released, full-length album Christus Deathshead (a review for which was delivered by colleague Ivan, and posted 20/05/2011 – therefore still to be found in our "Archive" section for personal scrutiny).
Over the years, the band has been enabled to play many a high profile show, performing at several Irish Metal festivals, UK's Subvert  and Up The Punks festivals, Germany's Wacken Open Air, the Czech Republic's Obscene Extreme and Load as Fuck in the US. They have toured throughout the UK, Europe, and even the US, and shared the stage with such internationally important and diverse acts as Abddon Incarnate, Agnostic Front, Anthrax, Discharge, Fear Factory Hatebreed, Napalm Death, Primordial, Suffocation, and The Exploited to name but a few. If indeed there's mention of quite a few "Punk" bands there, that should not surprise you, as Coldwar has from the start been inspired by a profound dislike of Church and State, and this continues to date, in spite of the band's line-up no longer sporting any of its original members. Oh, toward the end of 2011, Broughal was temporarily replaced by one Dominic McMahon (of Nephidrium), but he soon returned to the fold...only to disappear again at the end of 2013. he's now permanently replaced by guitarist Dave Greene, whom is also active with Black Metal act Wound Upon Wound.
Coldwar's latest offering is yet another display of the band's views on organized religion, pantheism being "...the belief that everything composes an all-encompassing, immanent God, or that the universe (or nature) is identical with divinity..."...in other words: pantheists "...do not believe in a personal or anthropomorphic god..."! Other topics on the album include the darkness of the soul, esotheric symbology, natural evil, scrutinization of the irregularity of the Gregorian calendar, the meltdown crisis point at which capitalist society presently finds itself, and the possible final gasp of our current 'material age' to pave way for a potential revolutionary shift in values-conciousness for a jaded humanity!
A video for album opening track "Heart Of Darkness" should be thrown out on the internet any time now, but at YouTube you can already view a lyrics "video" for the ensuing track "Ether Child". I've found no other material off the new album to be available as yet, but then my out-of-date browser would not allow me to log onto the label's SoundCloud page. Via the band's own site (www.) thisiscoldwar.net, you'll find links to the band's pages on Facebook, ReverbNation, MySpace, Youtube and iTunes (and the latter should at least give you the opportunity to listen to some 30-second samples of all album tracks). For a listening session of the band's previous albums, check their pages on BandCamp!